"These jeans are perfect for anyone who wants something a little more stylish, but with protection. The Adoras are slick, look good, stretchy, comfortable and lined with protective material."
Update
The Armr Moto Ladies Jeans have been discontinued. Armr has released a new range of motorcycle jeans (all with very similar specs to these) and the UK links on this page now point to those. Armr isn't available in the US, and so the US links point to other options.
Armr Jeans Review
Snapshot
Price: £75
Mileage tested: 4000
Testing conditions: West Asia, Central Asia and through Mongolia
Durability: 5⁄5
Fit and comfort: 3⁄5
Protection: 4⁄5
Value for money: 5⁄5
Where to buy UK: sportsbikeshop.co.uk
Where to buy US: revzilla.com
Features
Armr's Adora jeans have got to be one of the most stylish motorcycle jeans for women on the market today. I used to think big clumpy textile trousers and baggy bike jeans were all that was out there for women, but if you're after a pair of jeans that'll protect your legs and look good then you've found them! The Adora uses a stretchy denim material and are woven with Aramid. You get the protective aramid fibres on the bum, hips and knees, which is perfect as otherwise the trousers would get too hot and be too bulky. They come with knee armour, two pockets up front and two on the rear. They're also a slim fit and tight around the ankles, so don't expect to pull them over your boots. I used these jeans to ride from Georgia, through the Caucasus, over the Caspian Sea, through Central Asia and into Kazakhstan and they held up to everything I threw at them so they'll be more than capable of riding round the UK or touring into Europe.
What's good?
Out here the weather is hot, the roads are dusty and there's not much in the way of fashion (apart from downtown Baku and Almaty), but I still opted for these stylish jeans over vented textiles because I was interested in trying a pair of stretchy jeans and wanted to put them to the test. And the stretch material works brilliantly. The material hugs your legs and is surprisingly mobile, making straddling a saddle for hours on end a doddle. The Yamaha XT is tall and covered in luggage, but with the added elastic, swinging a leg over is no problem.
They're also lightweight and not bulky, making them comfy and cool in hot weather. They're not completely lined with aramid fibres, but have protection in impact zones, which keeps the weight and temperature down.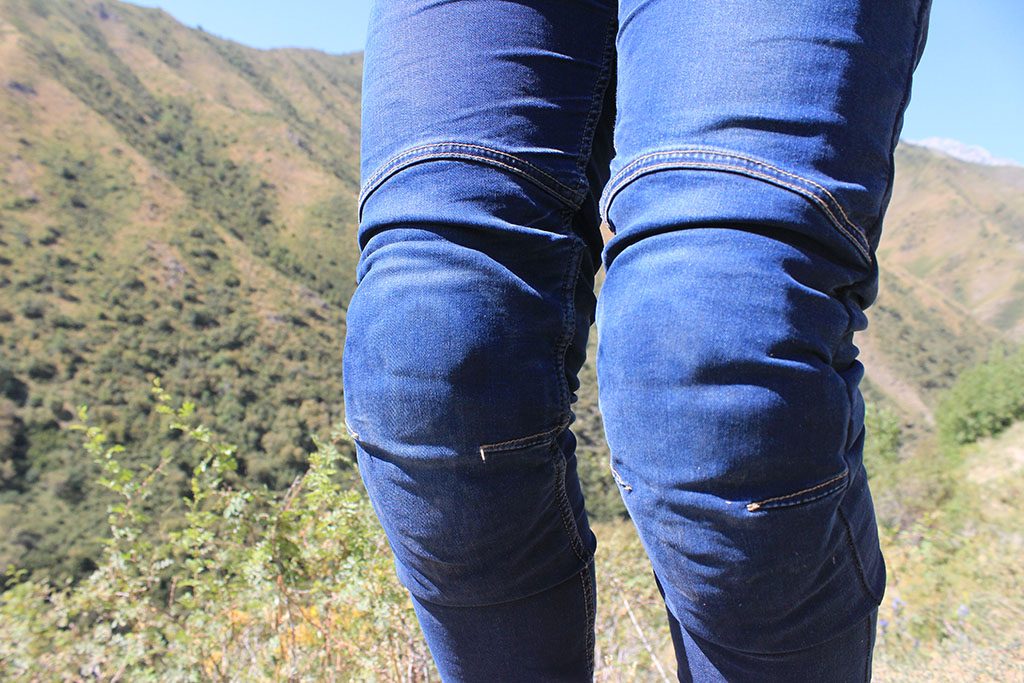 What's not?
They also come with CE knee armour. At first, the armour was tight, and dug into my knees but after a couple of days riding the jeans broke in and the problem vanished. If you do have this problem though, you could always shave the bottom of the armour down with a sharp knife. As the Adora's are a tighter, more stylish jean they will need to be tried on first. They can be a little tight on the knees and calves, and the mesh fabric inside can irritate if too tight. I opted for my normal jean size and they fit well, they're small on the legs but correct on the waist. But are very stretchy so trying on for size will guarantee the correct fit.
Another plus for these jeans is the build quality. After riding through Central Asia in a pair of jeans I was expecting wear and tear, but these proved pretty hard-wearing. There are no holes, rips or scuffs. I constantly chucked them in the washing machine and they didn't lose their shape and look brand new after.
Round up
Overall, these jeans are perfect for anyone who wants something a little more stylish, but with protection. The Adoras are slick, look good, stretchy, comfortable and lined with protective material. They're not thick jeans and are ideal for riding in the summer months, you can jump off the bike, stroll into your favourite café and not look like you're wearing big, cumbersome men's bike trousers!
Armr Jeans Review: Total score: 17⁄20
ps. We may receive a small commission, at absolutely no cost to you, if you purchase any products using the links on this page. We're not sponsored by anyone, are completely impartial and don't run ads. So this helps us keep the site running. Thank you for your support.
Read more on Adventure Bike Gear
Thanks for checking out our Armr Motorcycle Jeans Review. We hope you enjoyed it! Here's a few more articles on motorcycle clothing that we recommend you read next. 
We'd love to hear from you! Please leave your comments below.