Argentina International Motorcycle Shipping Companies
Here's our recommended motorcycle shipping companies for Argentina.
Dakar Motos


International Motorcycle Shipping
"DakarMotos are the first company in all the Americas, and probably one of the first five worldwide, specifically dedicated to internationally shipping motorcycles and overland vehicles. We have  successfully shipped thousands of bikes in and out South America.  Being travellers as well, we understand your needs and will always try to help travellers as best we can."
Business: Shipping company, freight forwarder, fixer and other services.
Ships to: Mainly air freight from Buenos Aires to almost anywhere in the world. All continents except Antarctica.
Services: 
Air freight
Sea freight
Customs clearance
Argentina/ Mercosur third-party road insurance
Inland road transport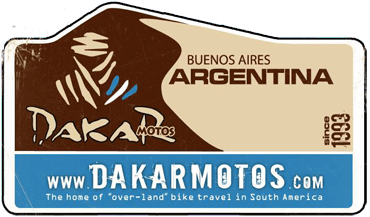 Buenos Aires, Argentina
www.dakarmotos.com
Javier or Sandra
+54 (011) 4730 0586/ WhatsApp +5411 4730 0586 
dakarmotos@hotmail.com  
International Motorcycle Shipping Companies
Welcome to the Motorcycle Shipping Companies Finder. This page lists worldwide freight forwarders, companies, agents, fixers, ferry services and detailed guides. Click a country on the map to see what's on offer.
Read More
Read more on Motorcycle Travel and Shipping in Argentina and North and South America.
Thanks for checking out the Argentina Motorcycle Shipping Companies post. We hope you found what you were looking for. Here's a few more articles on motorcycling in Argentina and North and South America that we recommend you read next. 
What's next? Check out these resources to get started on your adventure!
We'd love to hear from you! Let us know about your Colombia motorcycle shipping experiences and ask any questions in the comments below.