Welcome to the Adventure Motorcycle Reviews. Here's an 8,500-mile review of the Aprilia Tuareg 660 by Brett Anderson.
Quick info
Bike: 2022 Aprilia Tuareg 660
Purchased for: $11,599 (USD)
Miles covered: 8,500 total so far
Years owned: 7 Months
Aprilia Tuareg 660 specs
Engine: Parallel twin, liquid-cooled, 659cc, FI
Power: 79 bhp
Torque: 51.63 ft-lbs
Dry weight: 187kg
Seat height: 860mm
Tank capacity: 18 litres
Tyres: 21 and 18
Front suspension: Adjustable USD forks 
Rear suspension: Adjustable monosh
I had wanted to do a trip through Central and South America for many years and had planned on using my trusty 2018 BMW R1200GS Rallye. It was already well set up, reliable and I knew it well. However, due to recent health issues, I decided to go for a mid-sized adventure bike that wasn't as heavy as the GS.
After reading some reviews of the new Aprilia Tuareg 660 and comparisons with other mid-sized bikes, as well as talking to an acquaintance who had bought one, I made the decision to go with the Tuareg based on the fact that it was supposed to be very good off-road and on-road. And it was almost 150lbs lighter than my GS too! I also liked that the Tuareg had cruise control and better suspension than its competitors.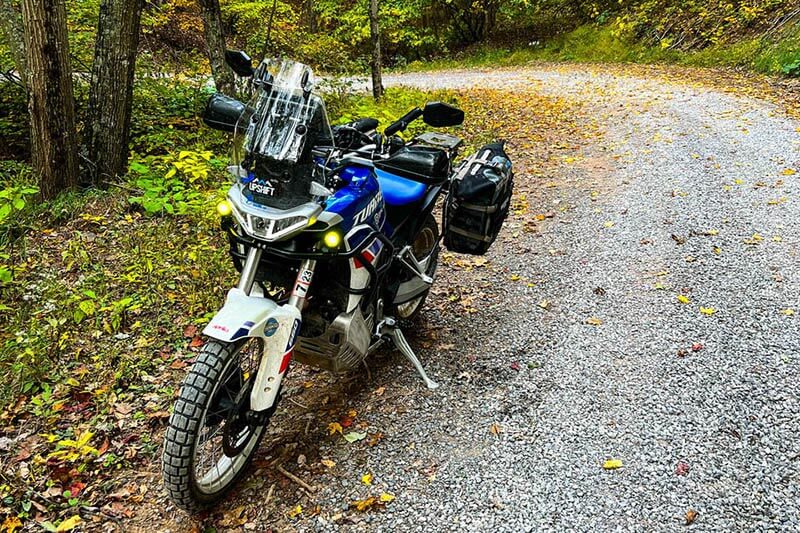 I already had Mosko Moto 35L panniers, which I had used on the BMW, so all I needed was the racks for the Tuareg. I have been using the Mosko panniers almost since Mosko Moto started as a company, having come across them at a bike show a long time ago, and they are tried and true. This is my second set and that's only because I wanted some of the features that came out on the V2.0.
My first set lasted a long time through plenty of drops and abuse and held up well. I sold them almost for what I paid for them. In the panniers I carried my heavier stuff in order to keep the centre of gravity low. Camping items in the right pannier, tools and misc in the left. I used a Steelcore strap around each pannier for security
In general, I don't really like tank bags because I find they get in the way when standing and I don't like fiddling with the, when fueling up. But they do come in handy for carrying small items you want to keep close, so I bought a Mosko Gnome tank bag specifically for the Tuareg. It is the only bag I found really fits the tank shape of the Tuareg well. I like its setup, but I found that when you fill the water bladder in it, there's not much room left. 
Finally, I carried the Mosko 30L Backcountry Duffle across the rear of the bike, which I attached with Mosko straps and then locked on with a steel cable and lock through the duffle ends and the luggage rack. I carried my clothes, toiletries and laptop in the duffle so that I could take it off and into the hotel with me and leave the panniers on the bike every night. In retrospect, a hard top box on the back, with a bag in it that I could've taken in with me every night would've given me something to lock small items in and to lock my important documents in when I wanted to go into a store or something on the road. 
READ MORE: Motorcycle Luggage Guides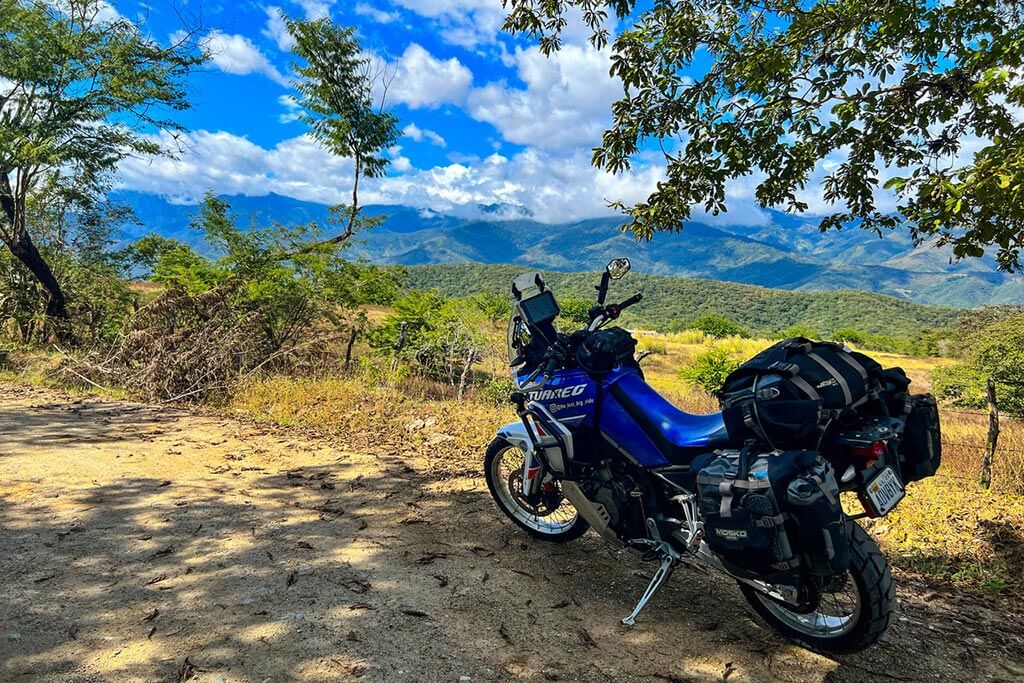 The Tuareg has been very reliable and I have had almost no problems with it, despite the fact that it is a relatively new platform. The only problem I had was a slight oil weep from the sump when I was in Mexico, so I tightened the sump bolts, which had slightly loosened and never had another problem.
The 660 engine has been around on Aprilia's Tuono sportsbike for a few years and they have worked out the initial problems. It is also de-rated in the Tuareg and therefore is not pushing such high horsepower for the displacement, which is easier on the engine.  
A lot of people warned me about taking a new Italian bike on this trip due to potential reliability issues as well as issues getting parts if needed. But it proved to be a non-issue for me. I did a bit of research before leaving and after talking to AF-1 Racing (a large Aprilia dealer in Austin, Texas) I was comfortable that they could get me almost any part I would need and get it shipped to me.
I went through Austin on my way out of the country and picked up a few spares that I thought I might need at AF-1, including a spare brake pedal, spare shift lever, an oil filter and some fairing and windscreen fasteners that are unique to the Tuareg.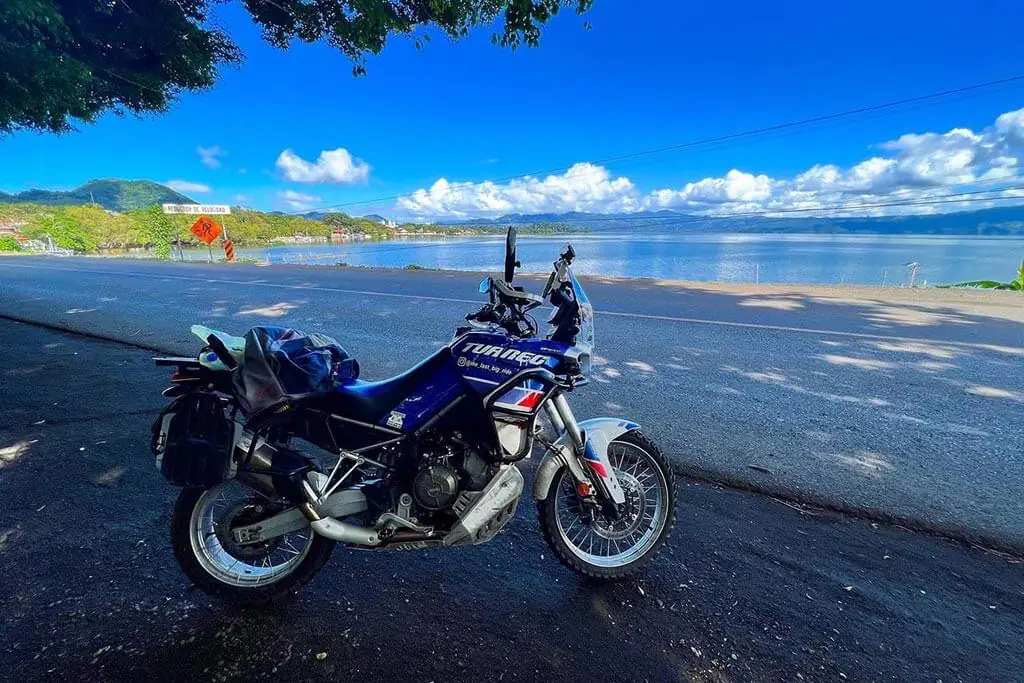 The service interval for the Tuareg is every 10,000kms or about 6,000 miles after the break-in service at 1,000km/600 miles. The valve service interval is at 20,000km/12,000 miles.
I was supposed to be in South America when the valve service was due and I was skeptical about finding a mechanic who was able to do that service, but I talked to AF1 and they told me that they were finding very few bikes out of spec on the 12K valve service and that it probably would not hurt anything to let it go beyond that if I could not get it done right then. I figured I would be done with the ride within 2,000 miles of when the service was due, so I could get it done then.  Sometimes you have to make do when motorcycle travelling.
The Aprilia Tuareg 660 is relatively easy to service yourself for routine maintenance. Oil changes and chain adjustment are very straightforward. The only "gotcha" on the chain adjustment is a 26mm axle nut, which is an odd size and hard to find a wrench for. As such, I replaced mine with a 27mm nut which fit the threads, as many with the Tuareg have done. Should you have to replace a spark plug or get to the cylinder heads for service, then the fuel tank has to come off, which is a bit more involved, but I am told not as bad as it sounds.  
I found the bike to be even more comfortable than my BMW GS for long-distance travel.  I had a custom seat that fit my height and weight, as well as the type of riding I would be doing, and it made a HUGE difference. The stock seat had been a bit uncomfortable after a few hours, but my custom seat let me sit for hours on end with no discomfort. Very worth the money spent.
I am 5 ft,10 tall and found the ergonomics of the Tuareg to be just about perfect for me. The bend of my leg and arms was comfortable and the handlebars were at a perfect height for both sitting and standing. Long days in the saddle were not a problem, and once I had added a windscreen extender, buffeting of my helmet was kept to a minimum. The only thing that was not comfortable was that the catalytic converter puts off a lot of heat when you are working the engine hard, making your right lower leg quite hot at times in hot weather.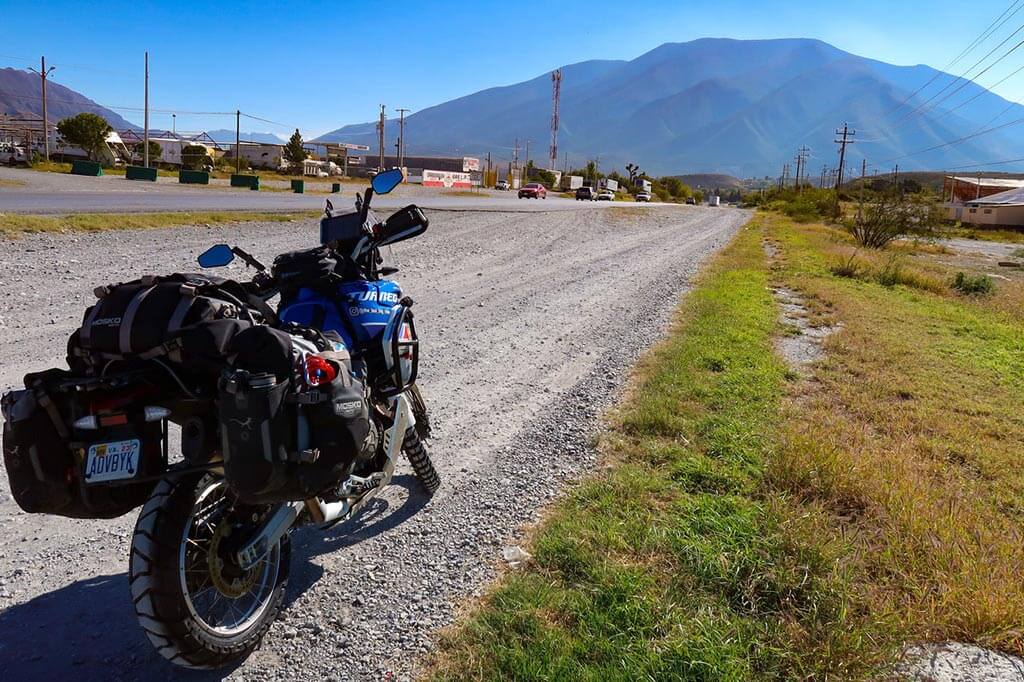 Excellent handling on the road, as you would expect from the maker of premium Italian sportsbikes
Excellent off-road handling. It feels like a much smaller bike off-road
Low centre of gravity
Quality, fully-adjustable suspension with long travel
Punchy, fun engine
Comfortable with good ergonomics
One of the lightest mid-weight adventure bikes
Good weather protection for an adventure bike
Good looks. It draws a lot of attention allowing you to interact with locals.
Reliable
Cruise control makes long days easier
Range of over 200 miles with 4.8-gallon tank and 50mpg average
Engine/catalytic converter puts off a lot of heat on the right side
Lack of Aprilia dealers / support in many parts of the world
Stock skid plate is inadequate for anything but road riding
No heated grips as stock
Have to remove the tank to change spark plugs
Odd tank shape means most tank bags don't fit it well
Requires premium fuel
Probably not very good for two-up riding. I have not tried it with a pillion, but it was at max capacity with just me and my luggage, so I don't think adding another person would've been a good idea. I figure this is the case with most, if not all, mid-weight adventure bikes
I would fix the engine heat issue and have heated grips as stock. I would also have a more robust stock skid plate. Other than that, I wouldn't change a thing. 
While the Tuareg is an excellent bike both on and off the pavement and is great for what most will use it for, it is not the perfect bike for a RTW trip, due to a lack of support and parts availability from Aprilia.
As long as you are in areas where you can get a postal shipment, you should be fine, but you might have to wait a bit if you have a breakdown and need a part. Having said that, I have experienced no mechanical issues with mine in over 8,000 miles of riding.  
I did not actually have any support issues myself, but I was worried that if I had a breakdown somewhere in remote South America, I might not able to get a part I needed. 
Another reason I question its suitability for RTW travel is that it requires premium fuel.  This was not a problem for me in Central America, but I could see where it would be in more remote areas of the world. However, after talking with the techs at AF-1 Racing, I don't think it would be a big problem, as they said that it should run fine on lower octane fuel as long as you don't get on full-throttle and cause detonation. I also talked with a friend who took his Tuareg to Baja, California for a few weeks and had it fueled many times from a guy with a fuel can by the side of the road, most likely not premium fuel, and he reported no problems. So that may not be a real-world problem in actuality. 
Riding the bike is a joy, and with the right tyres (the Dunlop Trailmax Missions are about as perfect as you can get for a travelling tyre) you can carve paved canyon roads like a sportsbike, as well as handle off-road challenges that would have riders of large ADV bikes turning back. Before leaving on my trip, I took the Tuareg on some trails which I had only taken my much-lighter single-cylinder dual-sport bike on. The Tuareg handled them as well as my thumper and at no point did I wish I had a smaller bike.
On my trip, I was glad I had a bigger bike than many of the fellow riders I saw riding single-cylinder bikes, as I was much more comfortable at high speeds than they were.  Low-speed handling is also very easy on the Tuareg with its low centre of gravity. 
I love that, even though this bike has 9.4 inches of suspension travel, a good 1 inch more than the Yamaha Tenere 700, the seat height is an inch lower than the T700 and I was able to get more footprint on the ground at stops, something that is not often possible for people with shorter legs. It gives you more confidence, especially off-road and when the bike is fully-loaded.  
If I had to do it again, I would take the Tuareg with no reservations, support issues notwithstanding.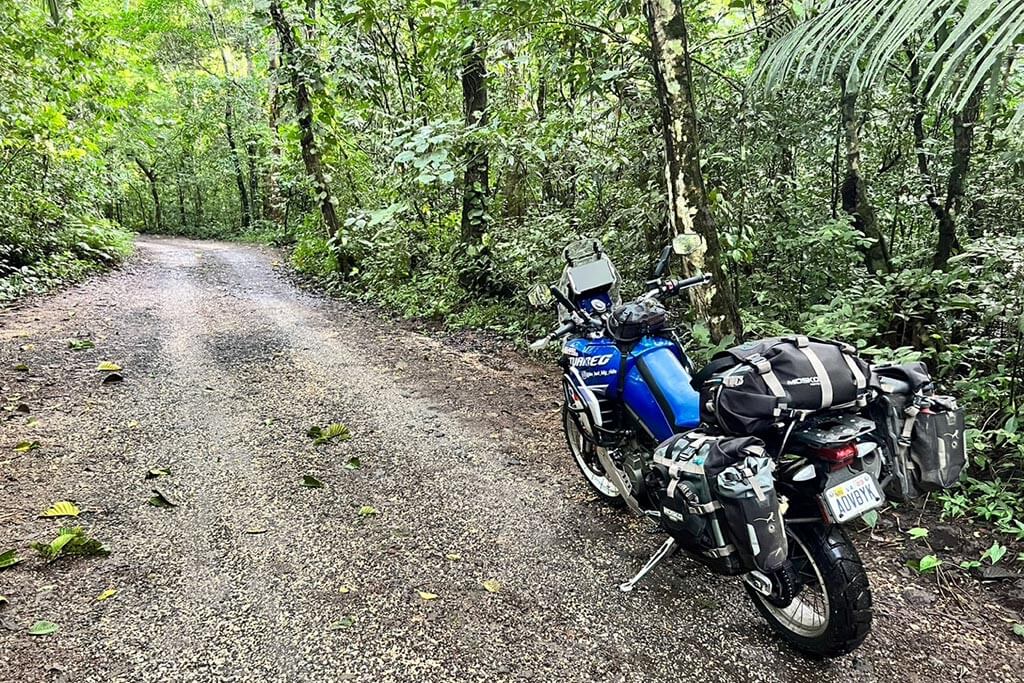 Brett Anderson is a lifelong rider, having started riding dirt bikes in the California desert at the age of 10. Brett has ridden throughout the USA, the Trans-Labrador Highway, Newfoundland, the Canadian Maritimes and several Backcountry Discovery Routes. He has been an airline pilot for 33 years until he was recently diagnosed with Pulmonary Fibrosis and had to take a medical leave from his career. With lots of free time on his hands, Brett decided to fulfil a bucket-list ride of riding from his home in Virginia to Ushuaia, Argentina and to raise funds for the Pulmonary Fibrosis Foundation, a non-profit organization that provides awareness and research funding of the disease. 
Follow Brett's adventures here:
Read more on motorcycle reviews
Thanks for checking out this Aprilia Tuareg 660 Motorcycle Review. We hope you enjoyed it! Here's a few more articles on motorcycle reviews that we recommend you read next. 
If you're interested in the Aprilia Tuareg 660 or have any questions, please let us know in the comments below.