The Alpinestars Patron suit is the perfect set-up for cold weather riding and touring. It handled -15C in Slovakia so is more than capable of anything the British winter can throw their way.
Alpinestars Patron Trousers Review
Snapshot
Price: trousers – £175
Mileage tested: 4000
Testing conditions: Through Europe in the depths of winter and down to -15C in Slovakia
Durability: 5⁄5
Fit and comfort: 3⁄5
Protection: 5⁄5
Value for money: 4⁄5
Where to buy UK: sportsbikeshop.co.uk
Where to buy US: revzilla.com
Update
The Alpinestars Patron suit has been discontinued. The links on this page now point to Alpinestars latest Gore-Tex Pro Laminate line-up. 
Features
The Alpinestars Patron Gore-Tex trousers accompanied me from the UK to Georgia, a 4000-mile ride through the depths of European winter that saw torrential rain, snow, storms, endless motorway miles and dirt tracks. And through it all the trousers proved tough, waterproof, durable and comfortable.
But before we get too deep into this review, bear in mind the Patron trousers are best suited for winter.
In my review of the matching Patron jacket I described it as suitable for autumn, spring as well as winter as it has ventilation to cool the rider down slightly.
But this isn't the case with their lower-half counterpart, which have no ventilation and a fixed Gore-Tex membrane that's sewn in. This means they sit firmly in the cold weather bracket.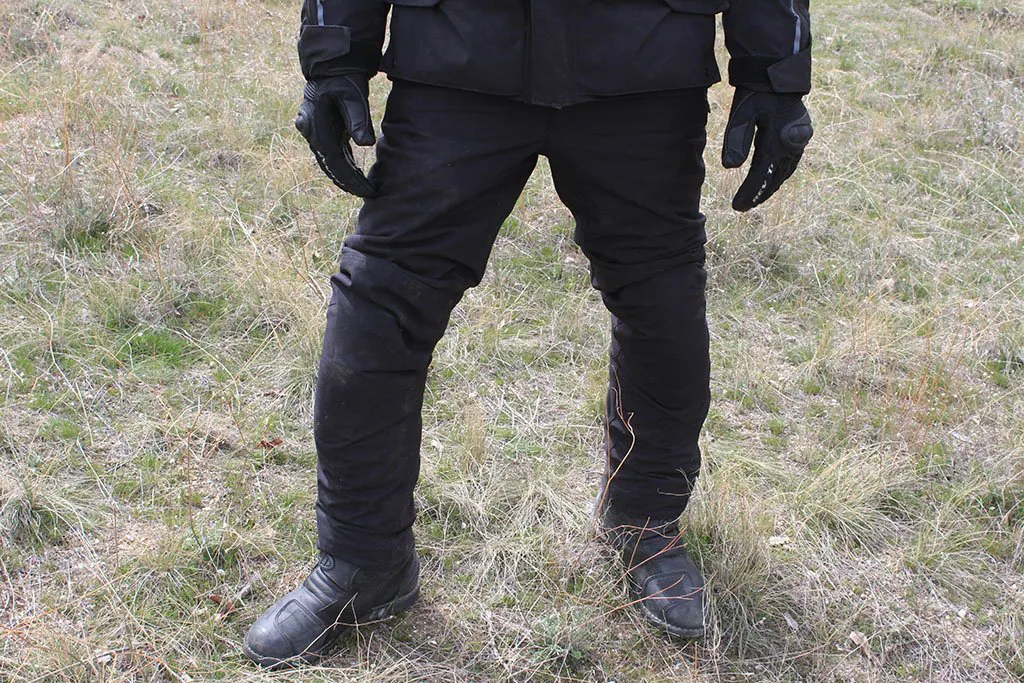 The trousers do come with a removable thermal lining, but removing it didn't stop me getting sweaty in very hot conditions. If you're planning on riding through knee-deep Slovakian snow or a miserable British commute though, you'll be glad you have them, though!
What's good?
The first thing I noticed about these trousers was the sublime fit. There are waist straps for an adjustable fit, and a quick and easy clip-and-button fastener above the flies.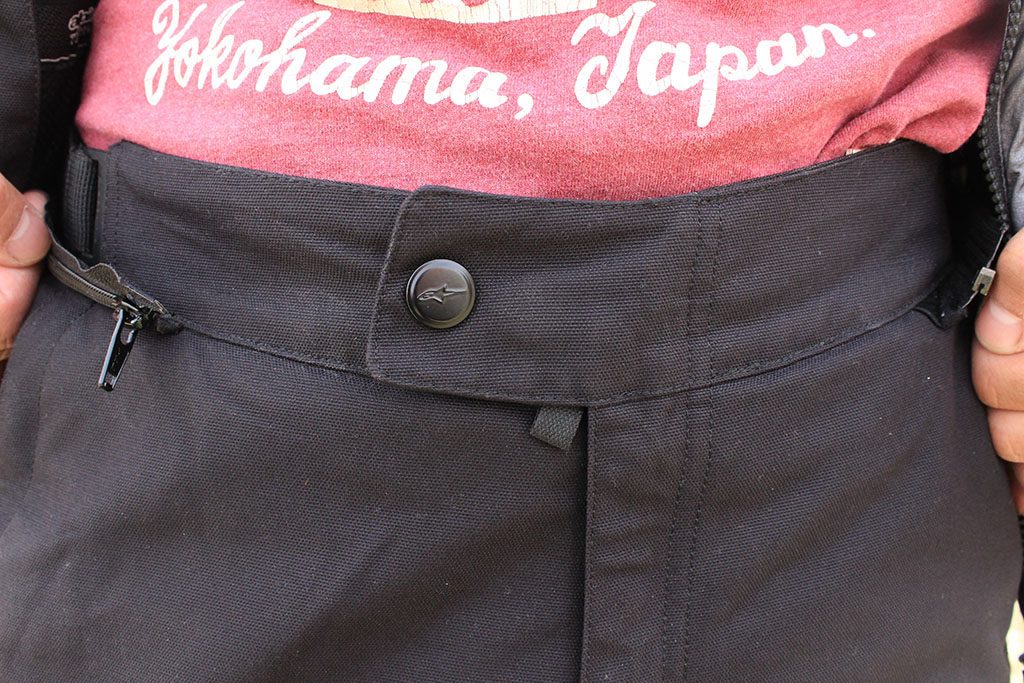 They are pre-curved for all-day riding comfort and the inner material is soft. Even when tackling 12-hour days in the saddle the trousers remained comfortable all the way. I did, however, remove the hip padding (as I do with all trousers) to increase leg flexibility even further.
When I arrived in Bulgaria I pulled out the CE-approved knee armour and used the Patrons for a week of skiing! The protectors are a pain to remove and reinsert, but the trousers were as warm and comfortable skiing as they are riding – they never let the cold in once.
They also remained 100% waterproof for both riding and immersion in snow after skiing crashes. Riding through torrential rain in Europe day in, day out proved no trouble for these tough trousers.
The way they repelled snow, wind and water showed the Patron trousers are perfectly suited for the cold. Another boost to their cold weather suitability are wide ankle openings that leave room for bigger, warmer boots.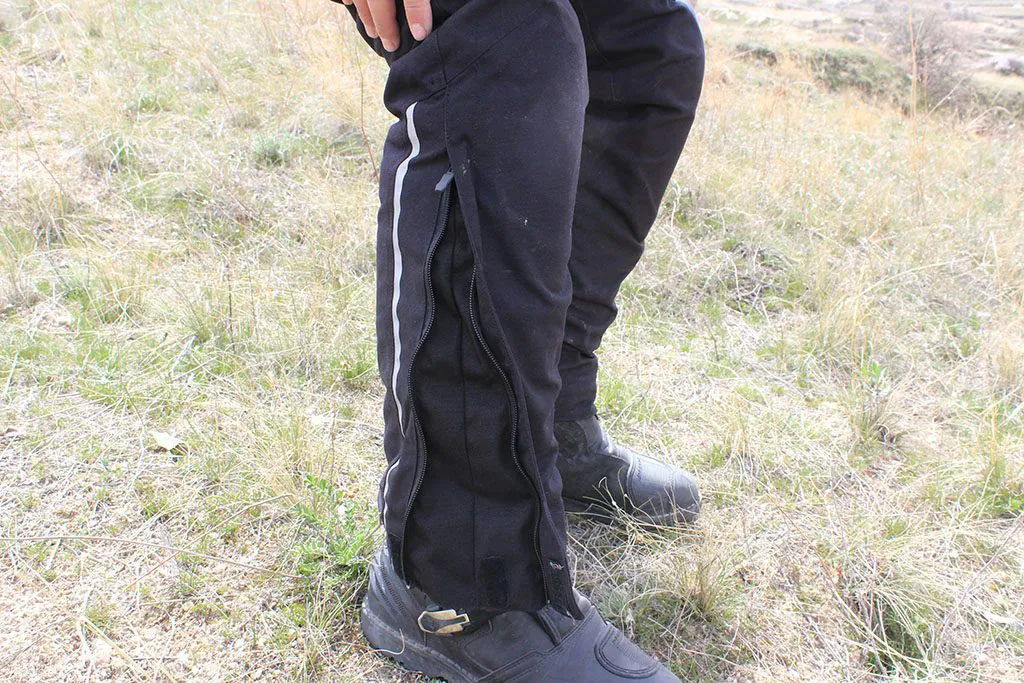 I wore the Patron trousers over Gaerne G-Midland boots, which have a wide top. Zipped openings on the Patrons' lower legs, which allows the trousers to expand, made life easier when slipping my trousers over big boots. Maybe it doesn't sound like a big deal but wrestling tight trouser legs over big boots is an incredible faff!
While these trousers are brilliant in temperatures as low as -15C, won't let a single drop of water through and are comfortable all-day, they are let down by a lack of practicality and versatility.
What's not?
The matching Patron jacket has an abundance of pockets, but the trousers only have two zipped side pockets. For a pair of adventure trousers, I'd expect a side leg pocket at least.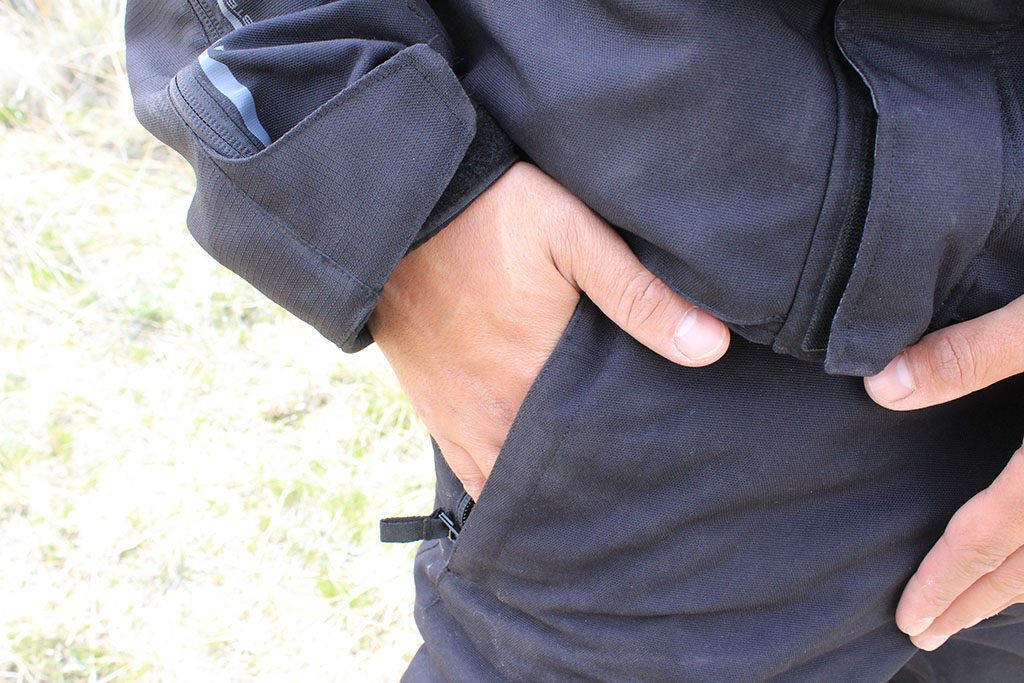 Another factor is the lack of ventilation. The jacket counterpart comes covered in vents while these don't. If they had vents running down the side of the trousers they'd be better when the temperature shoots up.
Alpinestars Patron Jacket Review
Round-up
The Alpinestars trousers are high-quality, well-made and durable. They're incredibly comfortable, warm and waterproof – and unlike other garments they don't retain water and become heavy and sodden after a long, wet ride.
Overall, I'm impressed with these trousers, which are the perfect companion on cold rides.
Alpinestars Patron Trousers Review: Total score: 17⁄20
ps. We may receive a small commission, at absolutely no cost to you, if you purchase any products using the links on this page. We're not sponsored by anyone, are completely impartial and don't run ads. So this helps us keep the site running. Thank you for your support.
Read more on Adventure Bike Gear
Thanks for checking out our Alpinestars Patron Trousers Review. We hope you enjoyed it! Here's a few more articles on motorcycle clothing that we recommend you read next. 
We'd love to hear from you! Please leave your comments below.