Albania Motorcycle Rentals and Tours
Albania is Europe's rugged little jewel. Its towering mountains, jaw dropping scenery and insane off-roading make Albania an adventure rider's dream land. 
Recommended Motorcycle Rental and Tour Companies in Albania
Please contact the companies listed on this page directly for more information.
"We're proud to be one of the first and only motorcycle rental companies in Albania with a European standard of professionalism. Join us on a tour or rental and our passion will give you an incredible experience of exploration and discovery in Albania."
Services: Guided and self-guided motorcycle tours, motorcycle rentals and accommodation.
Rental bikes: A range of BMW GS motorcycles and Harley-Davidsons.
Rental prices: Motoralb has a list of prices on their rental page. Prices start from €70 and are cheaper for longer rental periods.
Tour prices: Tour prices vary as they are customised dependent on the requests and number of people on the tour.
Insurance: The prices do not include insurance. Third party insurance can be purchased for €10 per day.
Kit availability: There is no rental kit available.
  Tirana, Albania
Gëzim Dervishi
+355 67 390 0790
motorralb@gmail.com
  Optional tours cross between: Albania, Montenegro, Kosovo, North Macedonia, North of Greece.
"Ride Enduro AL is the leading organiser of guided trail, off-road and enduro tours in Albania and the first company of its kind in the country. We're run by professional enthusiasts and will show you our breath-taking  and unique country on an epic enduro adventure."
Services: Guided enduro tours, private and personalised tours and enduro bike rental.  
Rental bikes: 2016 KTM EXC-F 350 and 2016 Husqvarna FE-350.
Rental prices: £90 per day. 
Tour prices: Ride Enduro AL offer a variety of tours including enduro tours from £630, Hard enduro tours and Adventure bike tours. Check their website for detailed info on tour duration and prices. 
Insurance: TPL insurance is included in the rental price.
Kit availability: Yes, rental equipment can be provided. 
  Tirana, Albania
  www.enduro.al
 Olsin Petro
+355 69 209 5891
 info@enduro.al
Moto Tours Europe / Adventure Roads
Italy, Croatia, Germany, Austria, Slovakia, Czech, Poland, Spain, Albania, Bosnia, Montenegro, France
"We provide the best motorcycle tour and lifetime experiences. Our clients' testimonials say it all, our guides are professionals, the bikes are always in impeccable condition and our places to stay are handpicked and authentic."
Services: Guided motorcycle tours and motorcycle rental services throughout Europe (including cross border rentals).
Rental bikes: Adventure tourers including the BMW GS range as well as Honda, Suzuki and KTM models.
Rental prices: You can find an exact list of rental prices on their rental page. Expect prices to start from €85 per day.
Tour prices: Tour prices vary depending on the tour and duration. But expect a range between €2,500 for a 6-day tour per rider to €7,800 for a 15 or 16-day tour. You can find more details on their tour page.
Insurance: Basic (third party liability insurance) is included and the deductible differs between bike models. Riders can also opt for additional insurance that will lower the deductible.
Kit availability: Yes, offered on request.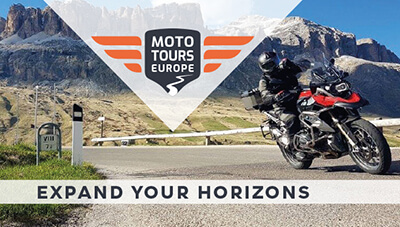 Miljenko Kralj
+44 20 3318 1431
  info@mototourseurope.com
FAQs on Albania Motorcycle Rentals and Tours
Read more on Motorcycle Travel in Albania and Europe
Thanks for checking out our Albania Motorcycle Rental and Tour Companies post. We hope you found what you were looking for. Here's a few more articles on motorcycling in Albania and Europe that we recommend you read next. 
Click here for all of our Albania Motorcycle Travel Guides
Motorcycle Rental and Tour Companies
Planning a Fly and Ride bike adventure? Here's our recommended motorcycle rental and tour companies from around the world. Check out the page, click a country and see what's on offer!
Read More