Welcome to the Adventure Motorcycle Traveller Reviews. Here's a 50,000-mile review of the AJP PR7 Adventure 650 by motorcycle traveller Bart Haeck.  
Quick info
Bike: 2018 AJP PR7 Adventure 650
Purchased for: Euro 10,700
Miles covered: 50,000
Years owned: Since new
AJP PR7 Specs
Engine: Single-cylinder, liquid-cooled, 600cc, FI
Power: 48bhp standard/ 58bhp with power kit
Torque: 42.8 ft-lbs
Kerb weight: 165kg
Seat height: 920mm
Tank capacity: 17 litres
Tyres: 21 and 18
Front suspension: ZF Sachs, USD telescopic forks, 48mm, fully adjustable
Rear suspension: ZF Sachs progressive system, fully adjustable 
I started riding motorcycles in 2017, bought an old Africa Twin and went on a three-month bike trip with a friend of mine. A total lack of experience and a bike that was way too heavy quickly made me realise I needed to look for a lighter motorcycle. After reading endless travel reports and bike reviews, I decided to look for a used BMW G 650 X-Challenge. Unfortunately, they're quite expensive at 10 years old with high mileage. 
So I started looking into the AJP PR7 Adventure 650. It's a light off-road bike, powerful enough, has a relatively big fuel tank mounted below the seat (equals low centre of gravity), good suspension, options to mount luggage and good reviews from other travellers (comfortable and reliable).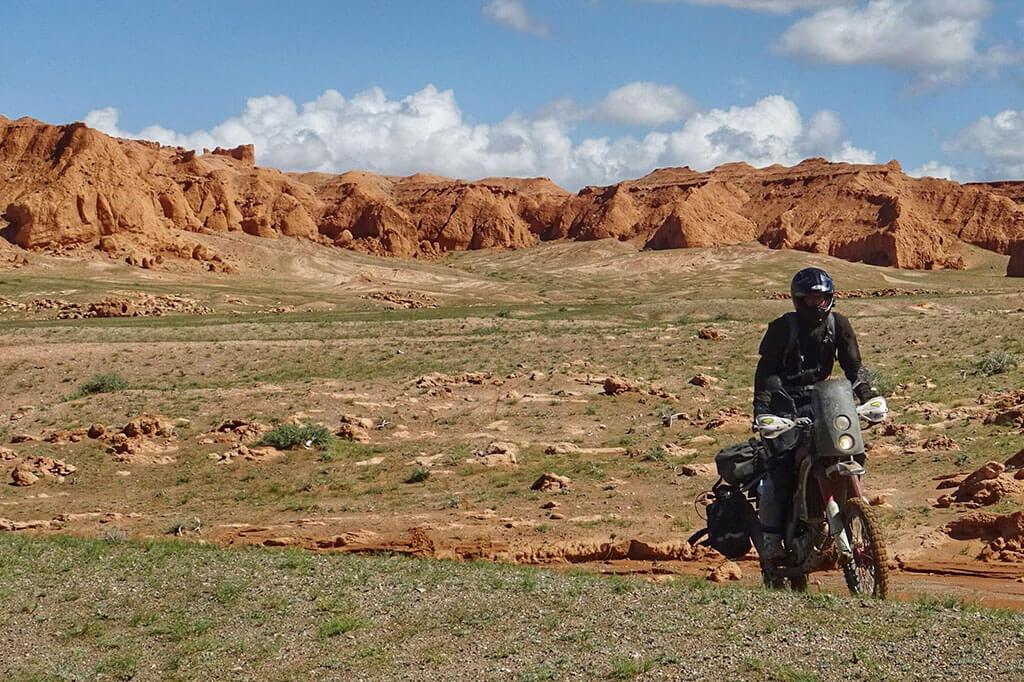 Heavier rear suspension spring
Clutch slave cylinder replaced
Handlebar risers, protection and mirrors
Removed the stock tablet and installed my Garmin + 12V & USB sockets
The bike has been pretty reliable overall. I encountered one big problem, which was a leaking cylinder head gasket. In hindsight, that could have been caused by improper installation during a major service (scheduled replacement of timing chain). Other than that, I have only had small issues like a dead battery, leaking clutch master cylinder and a few other minor bits and pieces. I never got stranded on the side of the road though.
Servicing, maintenance and parts
The oil change is every 3,000 miles with a filter change every 6,000 miles. Valve check is quick and easy to do, which I did more frequently in the beginning and then every 6,000 miles once the valves had settled in a bit.
AJP was very responsive to my enquiries, so I never had any issues with getting spares. The engine is produced by SWM and was used in the Husqvarna TE630, so you can get engine spares straight from those dealers as well. As for the rest of the bike, by now a lot of compatible aftermarket parts have been identified and there's plenty of info on several forums and Facebook groups. 
It's very comfortable! I would even say it's more comfy than my Africa Twin. I'm quite tall and the bike fits me perfectly. The windscreen coupled with a good seat and riding position made it all day comfortable both on and off road. And the vibrations are definitely within comfort levels too, especially considering it's a big single.
The AJP PR7 is a lightweight, off-road bike that's easy to maintain, has decent service intervals and is ready from stock to ride around the world with a big fuel tank, good suspension, windscreen and a comfortable seat. And I'm also a big fan of the hydraulic clutch feel.
Depending on which continent you're out adventuring in, you might want a slightly bigger fuel tank. The 17l tank returns around 220 miles. Unfortunately, because of the PR7's limited sales, no auxiliary fuel tanks are available for it. A bigger tank would be a great improvement because it would give you a bigger range and offer more opportunities to roam away from civilisation. 
Lots of owners have complained about a snatchy throttle at low revs, but I got used to it along the way and it doesn't bother me. Although, there is an aftermarket ECU that can solve this little issue if needed. 
No bike is perfect and there are always compromises when picking an adventure motorcycle. But for me, the AJP PR7 has been brilliant on my trip and fits my idea of a round-the-world bike perfectly. There are a few things I'd change like the fuel tank, but overall, from Europe to Mongolia, Japan and South America I've loved riding the AJP!
Bart Haeck
Bart is a 34 year-old adventure rider from Belgium. He left home to ride his AJP PR7 from Belgium through Europe to Central Asia, Mongolia, Russia and onto Japan. From there he shipped over to the Americas and rode through South America before heading back to Europe and making his way home… for now.  
Follow his awesome adventures on Instagram: Horohaeckie
Read more on Motorcycle Reviews 
Thanks for checking out this AJP PR7 Adventure Motorcycle Review. We hope you enjoyed it! Here's a few more articles on motorcycle reviews that we recommend you read next. 
Liked that? Try these next…
Are you planning a motorcycle trip, interested in the AJP PR7 or have any questions? Let us know in the comments below.