This is probably the beefiest, most secure motorcycle chain and lock on the market. Abus are known for producing high-quality locks and this is the very best they have to offer. After having one bike stolen and another attempted theft I decided to opt for the best I could get.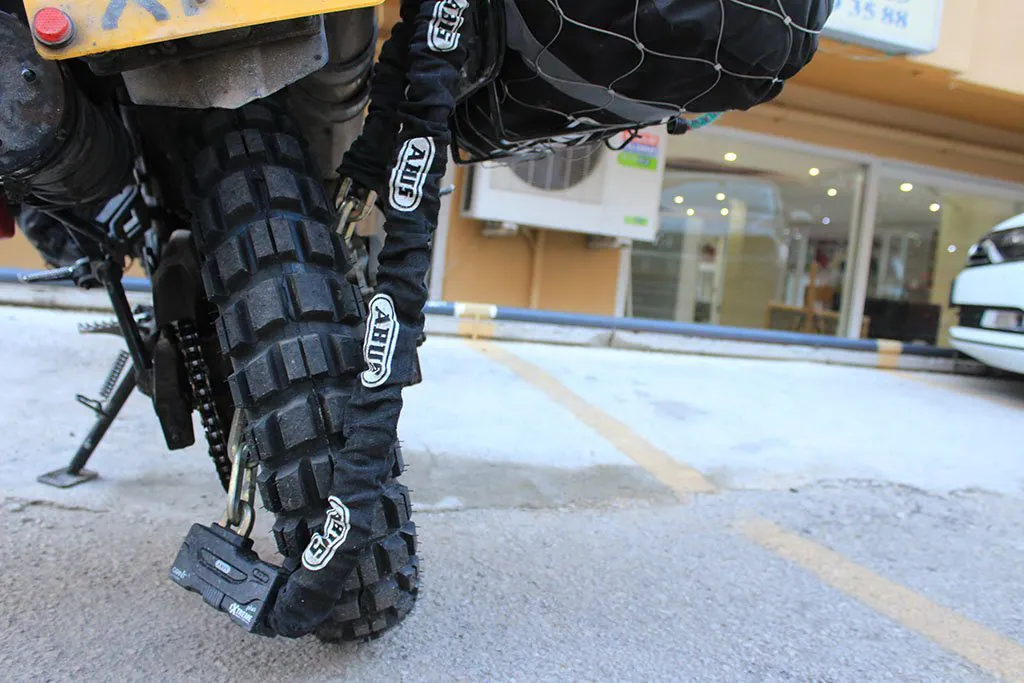 Abus Review Snapshot
Price: £231.99
Time tested: 3 years
Testing conditions: UK and RTW ride
Durability: 5
Ease of use: 5
Value for money: 3
Where to buy: amazon.com
Where to buy US: revzilla.com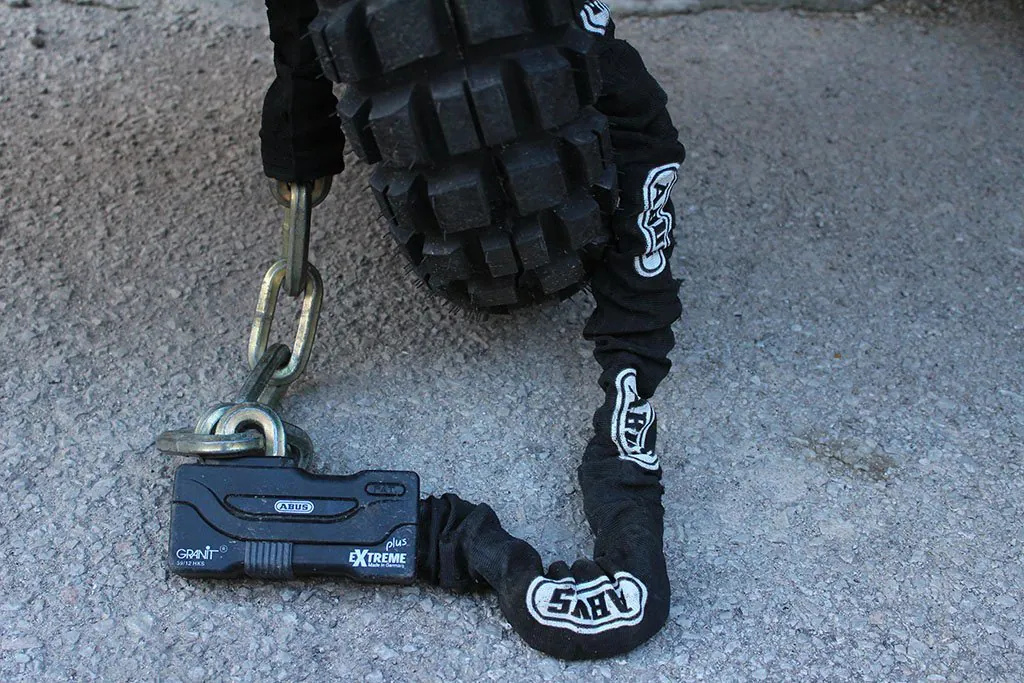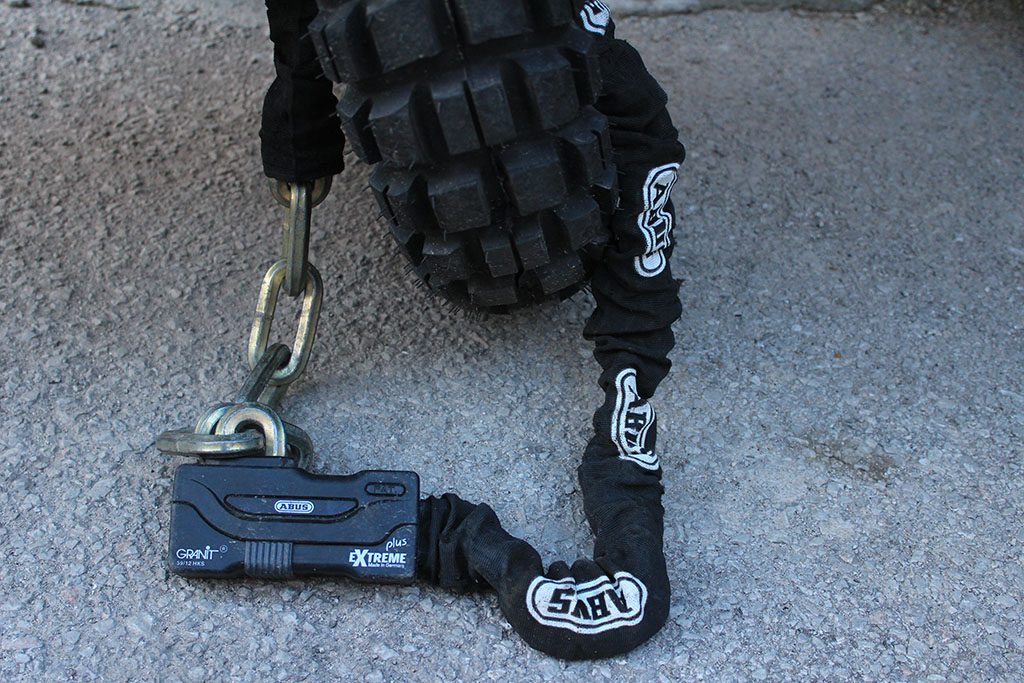 Features
The Granit Extreme is listed as grade 20 on Abus's security scale, the highest they offer. It's a 12mm chain with a fabric sleeve and a cover over the locking mechanism. You get two keys with the lock, one with an LED torch and a key code card for an additional or replacement key. You can also order the lock to be keyed with other Abus locks you may own. For example, I used to run both the Granit Extreme and an Abus disc lock on the same key. It comes in three size variants, 110, 140 or 170cm. I opted for the longer 170cm variant, as I don't see an awful lot of point in chaining a bike up unless you chain it to something and so I need the extra slack. 
READ MORE: 10 Tips for Keeping Your Bike Safe While Travelling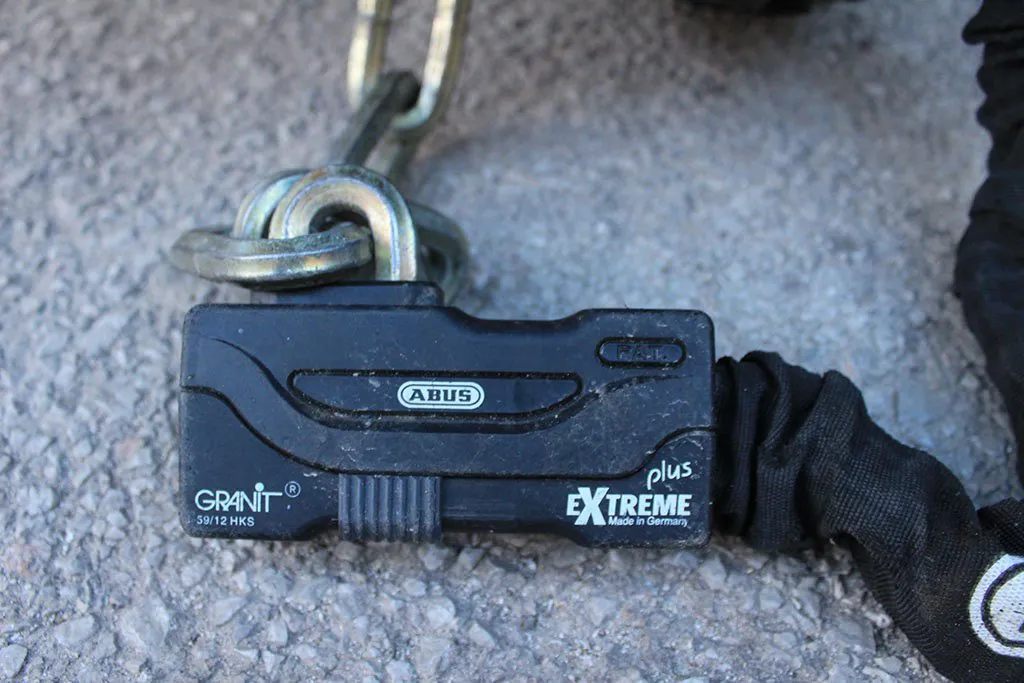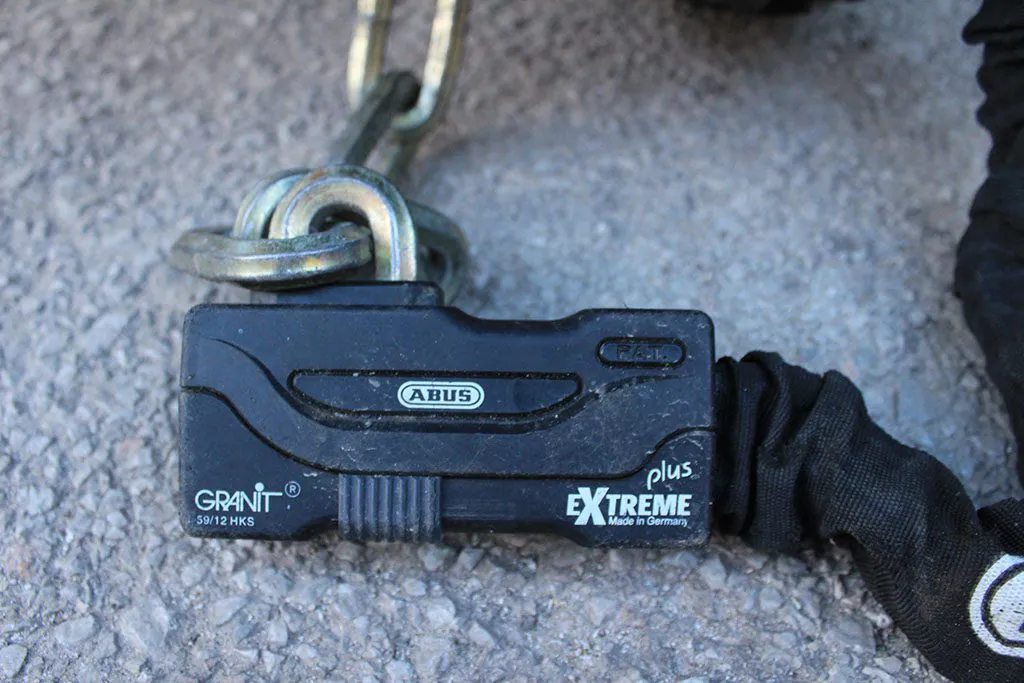 What's good?
After three years of heavy use and abuse, locking over 100 motorcycles ranging in value from £118 – £18,000 I've not had a single attempted theft. Of course, I can't attribute that to the Abus, and that doesn't vouch for how tough it is as a chain. It could all be luck. But, I know I feel safer with it.
While working as a motorcycle journalist in a past life, a turned motorcycle thief once told a colleague that he could "get into any lock and chain – even an Abus". While that didn't fill me with confidence, the "even" is what sold me.
As far as durability goes the Abus has lasted extremely well. The chain was left outside for a year and shows no signs of rust or damage, the key turns just as smoothly in the lock as the first day. The metal hasn't worn or chipped and the fabric protection hasn't ripped. The plastic case surrounding the locking mechanism is perfectly intact, and I prefer using it over a conventional padlock as it offers a more secure, solid feel and saves faffing around linking two ends through a padlock.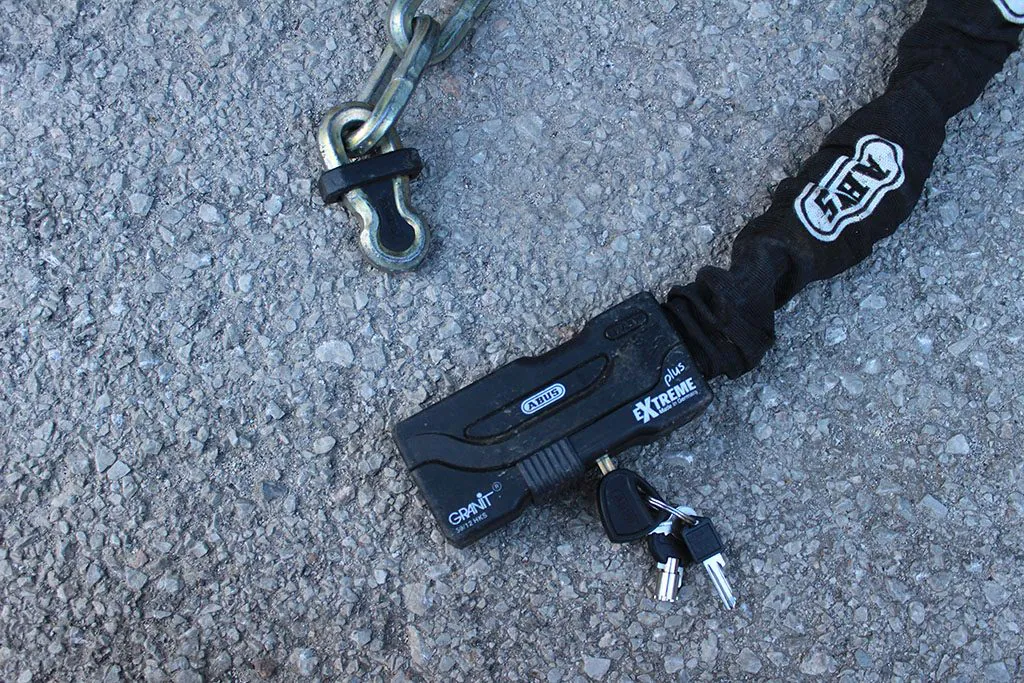 What's not?
The price tag is as hefty as the chain itself. At over £200 it's one of the priciest locks on the market. But you get what you pay for, I've seen cheaper chains cropped in seconds and I personally feel reassured with the Abus. Price for a chain is totally subjective.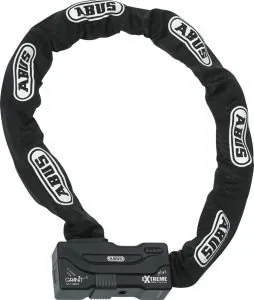 Round-up
This is a very expensive chain. But it's high quality, reputable, tough, lasts well and affords good piece of mind. Spending the extra pounds on a proper chain may save a mini fortune in the long run.
Abus Review Total Score: 13⁄15
ps. We may receive a small commission, at absolutely no cost to you, if you purchase any products using the links on this page. We're not sponsored by anyone, are completely impartial and don't run ads. So this helps us keep the site running. Thank you for your support.
Read more on Adventure Bike Gear
Thanks for checking out our Abus Motorcycle Chain Review. We hope you enjoyed it! Here's a few more articles on motorcycle clothing that we recommend you read next.
We'd love to hear from you! Please leave your comments below.