Wild, rugged, remote and a motorcycle traveller's dream. It has taken us five years to ride from the UK to Tasmania – and it was worth the wait…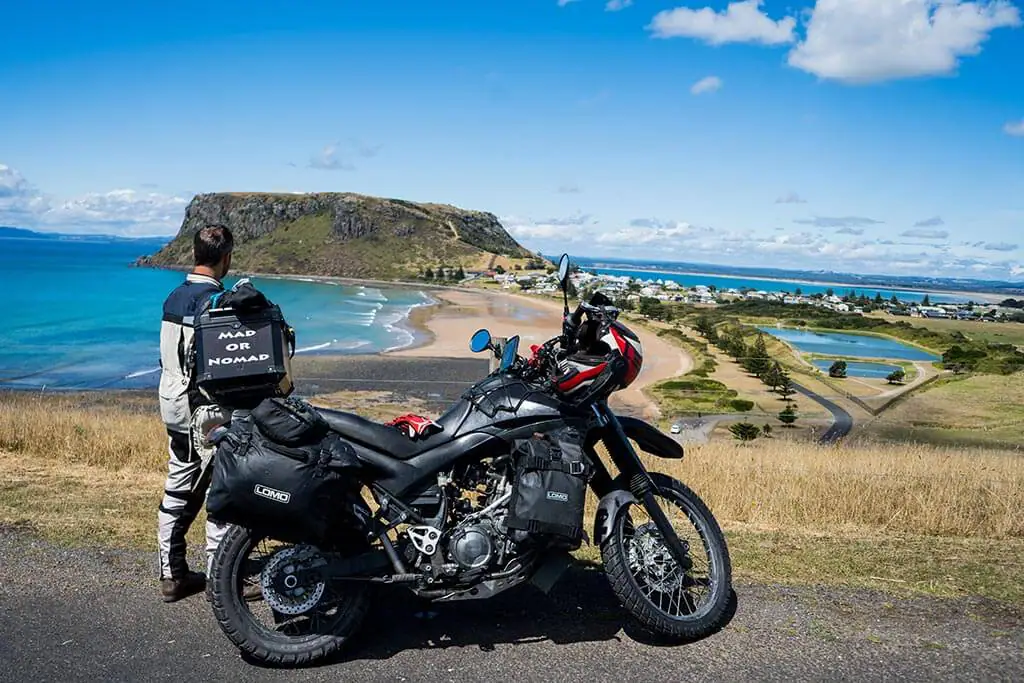 End of the world
The wind whips our faces as we cling to a lookout perch and gaze into the Southern Ocean. It's hard to wrap our heads around. There's nothing further south, just 1,500 miles of ocean before the white abyss of Antarctica. That would explain why penguins waddle across the beach below us at night.
It took us five years to ride from the UK to this weird, wild and wonderful island at the end of the world called Tasmania. But before we could land our Yamaha XT on its shores, we had to cross the Bass first…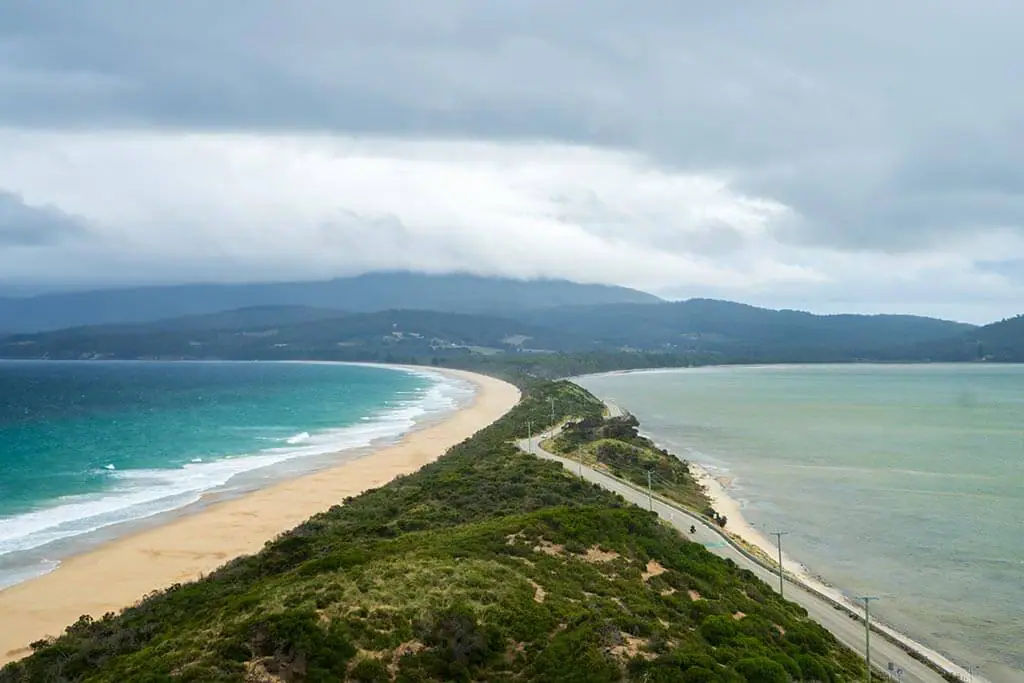 The Bass Strait
The land bridge connecting Tasmania to mainland Australia broke away over 12,000 years ago. Left to its own devices, the island developed its own endemic animals, climate and unique terrain and topography.
Today, the Bass Strait separates the mainland from the island and is known for being one of the roughest stretches of ocean in the world. We ride up the ramp onto the Spirit of Tasmania ferry, park up and find a seat. The engines rumble to life and the captain announces: "If you have any travel sickness tablets, take them now"… Great.
Over ten hours of waves later, we roll off the ferry into darkness and buckets of rain. We're still swaying and don't fancy pitching the tent so we treat ourselves to a solid roof for the night above a pub.
Western Explorer
The bags are quickly loaded in the morning sun so we can make a start on our Tasmanian adventure. It's northwest to Stanley and the Nut before hooking southwest to the Western Explorer Road (any road with a name like that has got to be good).
We pull off the main road and enter the start of an 80-mile gravel track through Tasmania's west coast conservation area. A sign warns there is no phone signal, stops or fuel along the way – perfect.
The deeper we go, the more rugged it gets. The track cuts its way through untouched land surrounded by a mix of dark green and hazy yellow hills. Mist shrouds the road in the distance, the air cools and the sky threatens a storm, but the XT is at home on gravel and the riding is easy going compared to what we've put this 660 through before. The rear tyre spits out stones and begs to stretch its legs on the straights.
But even though we're in the western world (and just last week we were in bustling Melbourne), we're now completely secluded and on our own. So, we're careful not to take any unnecessary risks by winding on the throttle. Who knows when a car or help might pass.
With a few hours left before the sun dips, we pull into an opening in the forest and set up camp a couple of miles short of Corinna. As it's our first night camping in Tasmania, we do our best to check for snakes and spiders – creatures we want to avoid at all costs.
The Huntsman
Corinna village is an old isolated gold mining settlement at the southern end of the Tarkine rainforest. We stroll through the old woodlands admiring some of the oldest trees in the world before riding onto a little barge to get across the Pieman River.
The gravel road continues towards Zeehan before transforming into beautifully laid tarmac all the way to Queenstown (another old mining town) for our morning hot chocolates. The quaint town is brimming with nodding bikers. Cruisers, adventure bikes, dirt bikes, tourers, classics – everyone is here because Tasmania is Australia's biking nirvana.
There's something for everyone, from addictive turns through stunning forest roads to single tracks and infinite gravel. We ride endless bends over mountains, through yellow farmlands, along a constantly changing backdrop and… "Barghhh!!!!" Alissa screams through the intercom awakening me from the twisty trance.
Mid heart attack I turn around in the saddle to see her visor filled with legs. I screech to a stop, almost throwing the bike to the ground as Alissa struggles to undo her chin strap, rips her helmet off and throws it. Out crawls a hairy huntsman spider bigger than my hand. It had run up inside and along Alissa's cheek. It's a solid 30 minutes of checking and re-checking all our gear before we can get back on the bike again. The huntsman spider almost makes us want to ask for a refund on Tasmania.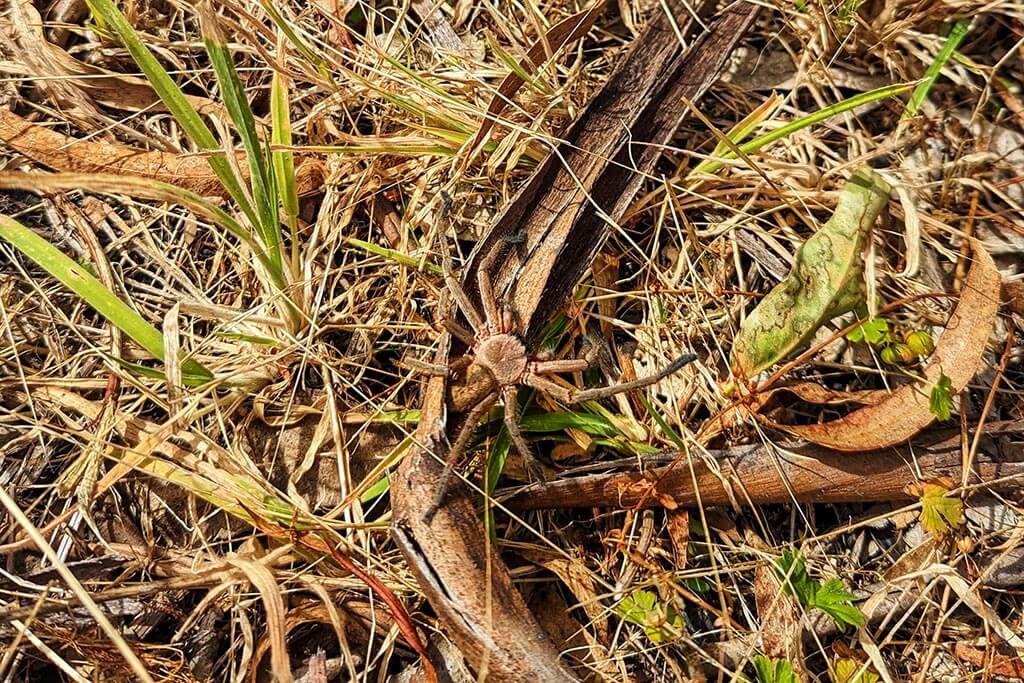 Nine days
We only have nine days on the island and a lot of ground to cover, so we carefully plotted a day-by-day route to get the most out of it. Tasmania is just a tad smaller than Ireland, but with 540,000 people compared to seven million it feels relatively empty.
Outside of the main towns there's the odd truck and groups of bikers, but the more we ride the more we're left alone to explore the island's wilderness.
The roads are phenomenal, sweepers go on for miles and it's so tempting to pin the throttle, but we have to resist due to wild and often endangered animals lurking on every bend. We even spot an elusive platypus casually crossing the road in front of us. 
There's a constant choice of trails, tracks and asphalt to choose from and it's easy to lose yourself. But it doesn't matter, sooner or later we crest a hill, see the ocean, are reminded we're on an island and regain our bearings.
Tenting in Tas
Setting up camp after the spider incident isn't easy. But the gorgeous river bank by Derwent Bridge is just too inviting. We find a quiet spot by the water on soft sand, pitch our tent, cook pasta and brew tea as the warm sun dips, a billion stars sparkle in the night sky and a green flicker of the Aurora Australis waves us off to sleep.
Camping with a motorcycle in Tasmania is exceptionally easy. There are fantastic free sites dotted all over the island. Government run spots often include free BBQ facilities and toilets too. We pull into a few of them and are immediately welcomed by caravaners and fellow campers.
But Tasmania is wild and unpredictable, as is its weather. We pack up our camp in the sun, ride in the heat, freeze in the afternoon, are hot again by the evening and clutch our pillows as thunder and lightning rips through the night sky while rain thrashes our tent. But by the morning the sun is up like nothing happened. It's four seasons in 24 hours…
The past
We make our way to Hobart to check out a few museums for a bit of culture then onto Port Arthur to read up on Tasmania's history.
Tasmania was formerly called Van Diemen's Land (the colonial name used by the British in the 19th century). The British Empire housed its most infamous penal colonies here. They were set up all over Australia, but the most hardened convicts were sent to Port Arthur in Van Diemen's Land as it was known for being inescapable.
It's not just the harsh treatment of prisoners that marks a sad past on Tasmania. Barbaric atrocities were committed against the aboriginal people who had inhabited the island for thousands of years before European settlers arrived and it is important to acknowledge that part of the island's history too.
We head for Kettering as we received a message from Simon and Anna, who very kindly got in touch to offer us a room for a couple of nights. They cook up delicious homemade pizzas, share great routes for the rest of our trip and we spend the evenings drinking good wine. 
From Kettering we plot a day trip to Bruny Island and ride as far south as we can go, criss-crossing the island on muddy logging tracks in search of Adventure Bay – named after British Royal Navy Captain Tobias Furneaux's ship. He landed here in 1773 after heavy fog separated his ship Captain James Cook's ship on Cook's second Voyage of Exploration. Luckily for us, we can catch a 15-minute ferry for £3.
Our time in Tasmania is almost over, so we roll up the island's east coast hugging the Pacific Ocean. The sun engulfs the entire ride. Finely powdered white sand lines Tasmania's shore, the beaches are empty and the waves are fierce. We pitch our tent in paradise at Binalong Bay on warm sand while falling asleep to the sound of the sea.
Gravel Glockner
Before we head back to Australia's mainland, we hear whispers of Jacob's Ladder – apparently one of the world's most dangerous roads (a title many countries claim). We head west and up into Ben Lomond National Park. We stop at the foot of the pass and look up. Freezing white mist blankets the entire pass so it's as if the road disappears into the clouds. It's made up of loose gravel with a steep cambered climb and a dozen back-to-back hairpins. But it's no match for the overloaded single-cylinder XT which relishes the challenge. As we reach the top, Tasmania rewards us by momentarily clearing the sky to reveal the Gravel Glockner we've just ridden and the rugged landscape of Tasmania below.
It's an incredible island. Raw and remote, over twenty percent of it is World Heritage Wilderness and only accessible by foot. There are parts still untouched by humans. Tasmania is a wild and magnificent land at the ends of the world and one of the very best places to ride a motorcycle on earth.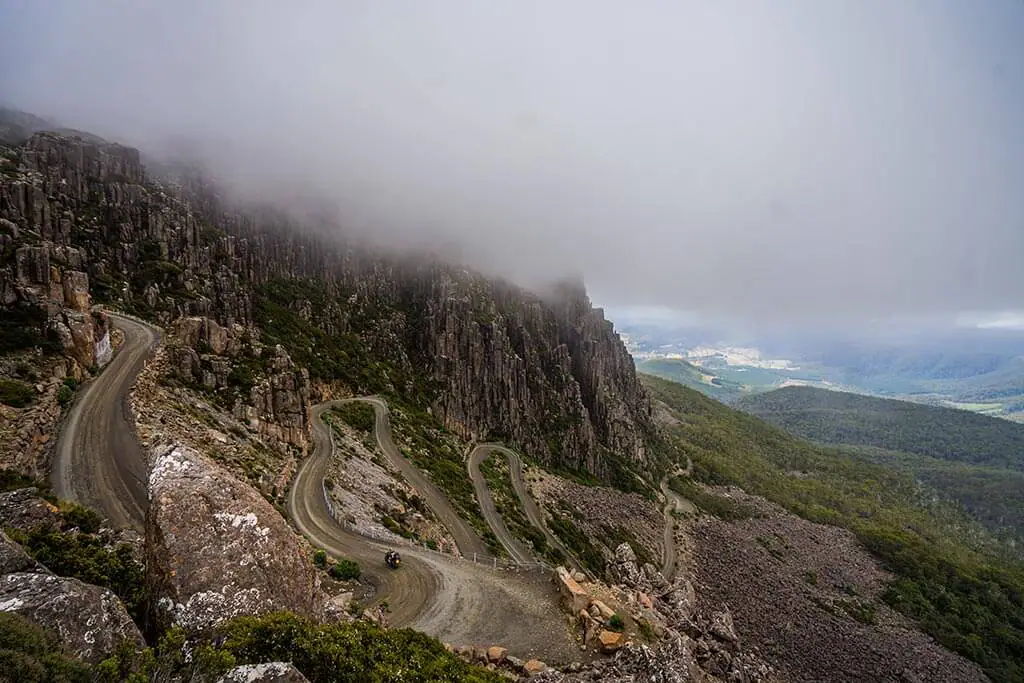 Read more on motorcycle travel in Tasmania and Australia
Thanks for checking out our Tasmania Motorcycle Travel Blog. We hope you enjoyed it! Here's a few more related articles on riding in Tasmania and Australia that we recommend you read next. 
(Australia motorcycle travel guides and full Tasmania route and riding guides are on the way! We're writing them now and will publish soon)
If you enjoyed this Tasmania motorcycle travel blog or have any questions, please post your comments below. We'd love to hear from you.