Nicknamed "The Gateway to South America", Colombia is the perfect place to start your motorcycle travels in the Americas. And here are 9 awesome reasons why you'll absolutely love riding there. 
Motorcycle Travel in Colombia
Colombia has the best of everything
There is a saying that goes: "If you want the best Caribbean beaches, go to the Bahamas; if you want the best of the Amazon, go to Brazil; if you want the most amazing Andes, go to Peru; but if you want them all in one place, go to Colombia". 
If you're short on time, you can experience a little bit of everything that makes South America magical. Rather than rush through a whole continent in 2-3 months, barely seeing anything except asphalt and gas stations, choose one spot and see it well. Colombia really does have it all and is a one-stop-shop for motorcycle travellers. This specific reason makes Colombia special for adventure riders because you can see and do so much in one place. 
Unexplored and Undiscovered…
Colombia is a country that not even the locals have thoroughly explored. With the improved political situation, huge areas that were (like the Emerald Capital of the World) are now open for business – locals and foreigners alike are finally exploring their own fantastic backyard. It wasn't that long ago that places like the Lost City in Santa Marta or Comuna 13 in Medellín were totally off-limits while today they're turning into tourist hubs.
… But not for long
We recommend taking a motorcycle trip in Colombia sooner rather than later. Colombia still has a new and authentic feel to it and it's worth getting here first before it too gets overrun by mass tourism. You'll want to explore Colombia on two wheels right now while it still feels like you're discovering untouched, unmapped and undiscovered lands – and there's no better way to travel the country than on a motorcycle!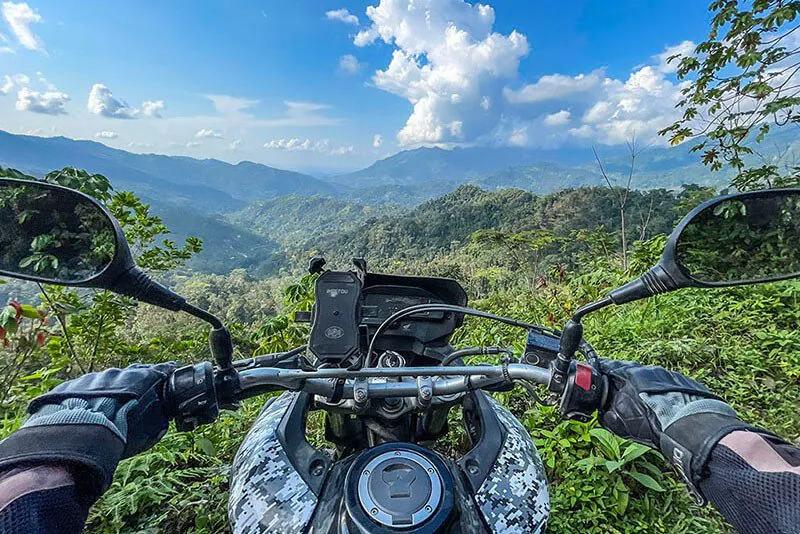 Location
Medellín is surprisingly close to the United States and is only a 3.5-hour direct flight from Miami. Another good thing is that since Colombia is directly south of the United States, the time zones won't change that much, if at all, which helps you avoid jet lag. 
Also, when it's winter in the States, it's summer in Colombia, which means that Colombia is the perfect place to visit if you want to escape the winter and ride.
If you're coming over from the UK, then you can normally catch return flights for around the £350 mark, dependent on the time of year and pandemics.
Check out this guide packed with info and things to do in Medellín.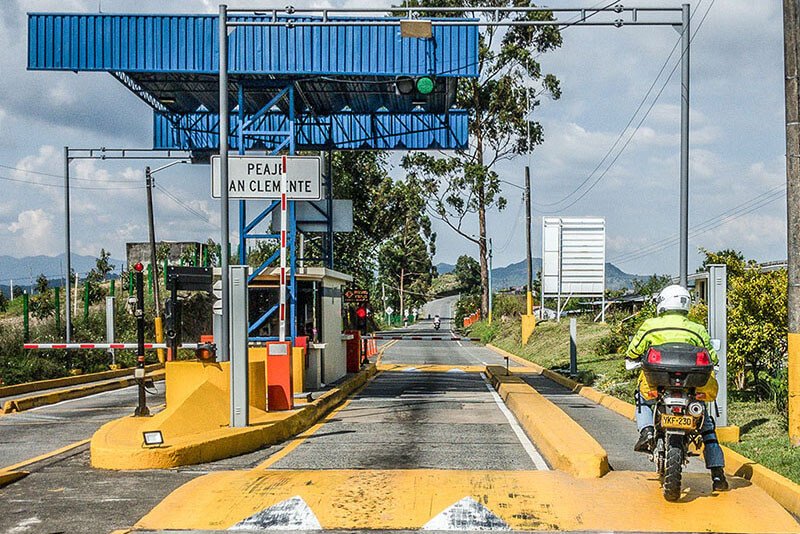 Perfect Climate Year-Round
The equatorial climate means you can start your South America motorcycle adventure trip at any time of year, even winter, and travel south as spring and summer hit. Colombia allows you more travel flexibility, which is pivotal for a motorcycle trip. 
Colombia has two seasons: rainy and dry. Rainy season is still great for riding, you'll just need waterproofs for the occasional shower. 
Dry Season: December to March and  June to August
Rainy Season: April to May and September to November
Friendly People
We find Colombians to be among the friendliest people in all of Latin America and they're a huge reason we call this place home. Locals are not just interested in meeting foreigners but they're incessantly eager to help out. No matter what issue you may be facing on your travels, don't be shy: if you've lost your way or need some assistance on the road, chances are you'll find it at a moment's notice if you simply ask.
Chill out and Study Spanish in Medellin
 Colombia is an insanely popular place to take Spanish language classes and here you'll find some of the best language schools in South America! Add to this the fantastic weather and friendly locals and it's easy to see why "hanging around" for a while, before tackling a full continental crossing, is an excellent idea. 
Chilling out in Colombia will also help you get a feel for the culture, let you get into the flow of the trip as well as get any of the bugs worked out before you head off on your journey.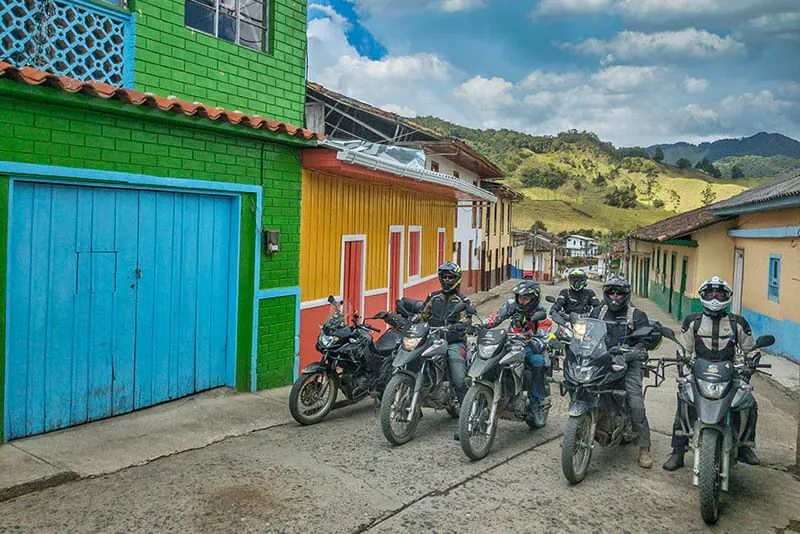 You can skip The Drama of The Darién 
Don't be put off by the stories of crossing the Darien Gap. Shipping your bike is expensive, time-consuming, and nerve-wracking at the best of times. Unless you're on a bucket list trip that specifically includes a trip through Central America, you can skip the drama of the Darién – just take it easy and start your trip by renting a motorcycle in Medellín. You'll still have the best of South America at your feet without the headache and expense!
It's the most obvious 'break' on a Pan-American motorcycle tour
Not everyone has the chance to traverse two continents in one trip. Most of the time, adventure riders will actually split up North and South America into two journeys, taken even a few years apart.
Colombia is the most obvious place to break up the long-haul odyssey in two and is absolutely genius for North American riders, who can explore their continent on their own bike and then fly to Colombia (either shipping their bike or buying one here) and continuing south to Ushuaia.
However you do it and whatever you do – you will absolutely love riding in Colombia!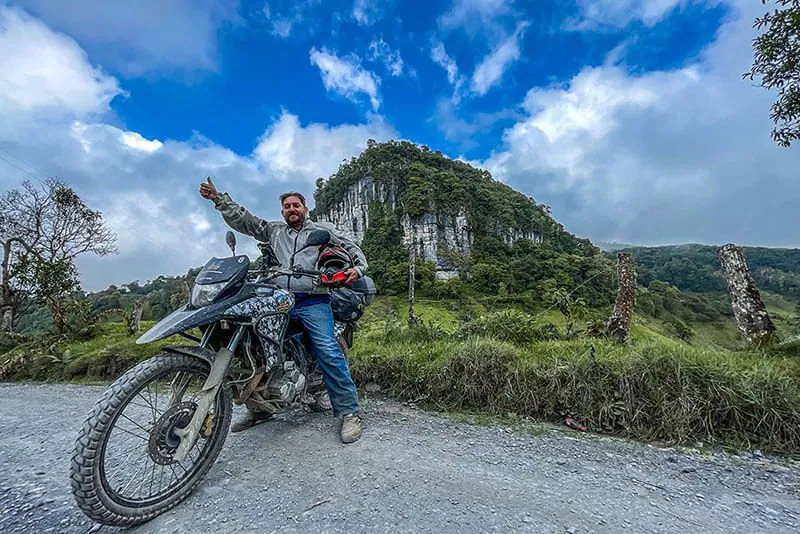 About the authors
Jeff Cremer and Alan Churchill
After living in Peru for 12 years and working as a wildlife photographer in the Peruvian Amazon, Jeff decided to take the leap and move to Colombia. For the past three years, he has owned and operated Colombia Moto Adventures with Alan Churchill – a full-service motorcycle rental and tour agency based in Medellín.
Jeff and Alan are also the authors of a comprehensive motorcycle travel guide packed with everything you need to know about riding in Colombia. Here's all the info you need to join the guys on one of their epic tours. 
Read more on Motorcycle Travel in Colombia and South America
Thanks for checking out this 9 Reasons to Motorcycle Travel in Colombia article. We hope you enjoyed it! Here's a few more articles on motorcycling in America that we recommend you read next. 
Are you planning a motorcycle trip to Colombia or South America or do you have any questions or tips to share? Let us know in the comments below.