Welcome to the six best trail riding routes in the UK! In this article you'll find 6 brilliant trail riding motorcycle routes recommended by the Trail Riders Fellowship. 
What is trail riding?
The UK is brimming with thousands of miles of unsurfaced roads and tracks. They're called green lanes and many of them have vehicular rights of way, which means you can ride your motorcycles on them. The tricky bit is finding them and knowing what routes you can legally ride on. If you'd like more info on that, check out the How to Go Trail Riding in the UK article. But if you're ready to ride, then here are 6 of the very best in the UK! 
Where: Norfolk
Duration: Half a day
Difficulty rating: Fairly suitable for beginners
Best bit: Amazing flatland costal scenery at Holme-next-to-the Sea
Watch out for: Getting tempted into going faster than you should on the off-tarmac sections, which are popular with walkers 
What makes it special: Peddars Way is a straightforward way to get into trail riding.  The 50-mile Roman road is a smooth cocktail of bucolic country roads and easy-going trails, though some parts are footpaths which need to be boxed out. It's flat, dry, sandy, and there's nothing too technical – making it the easiest route on our list. You'll still find a few fords, particularly at Castle Acre, and that's where you'll have the most fun – everyone loves a splash. The scenery switches from open heathland to conifer forests and the track itself is well-drained, meaning you can even tackle it on trail tyres in the summer for your first taste of 'real' trail riding.
Where: Wiltshire
Time:  A weekend.
Difficulty rating:  Light trails, nothing too tricky.
Best part:  South Gloucestershire into Wiltshire is nearly all off-tarmac.
Watch out for:  Ruts hidden in long grass and the odd rocky ford.
What makes it special:  Jump on your bike and spend a long weekend riding this ancient road which once formed a border between Roman Britain and the unconquered Barbarians through the heart of England.  Fosse Way runs all the way from Lincoln to Exeter on everything from dual-carriageways, inner-city scrambles and pretty green lanes.  The only tricky bit is navigating around Kemble Airfield to locate the unsurfaced portion of the route – other than that it's mainly a Byway Open to All Traffic bisected by a few quiet country lanes.  It's a perfect summer route for bigger adventure bikes.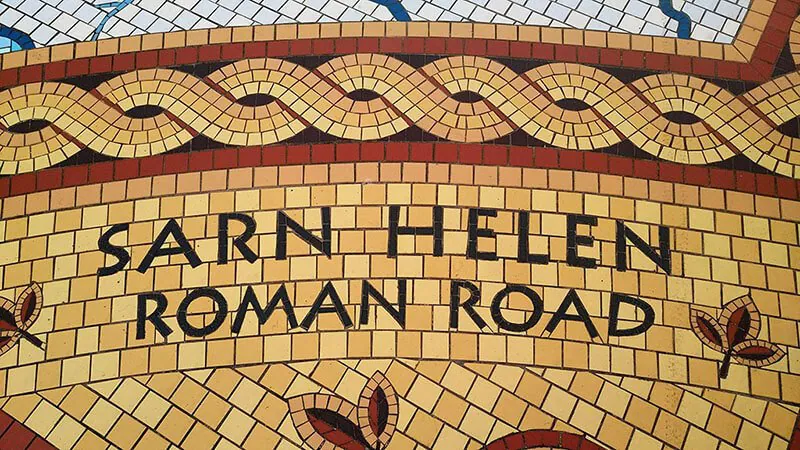 Where: South Wales
Time: Two days.
Difficulty rating: Tricky at times.
Best part: The route edges into one of the most sparsely-populated and spectacular scenic areas of the UK.
Watch out for: Getting lost, as the route crosses a motorsports arena and there are plenty of harder routes nearby.
What makes it special: There's a huge mix of incredible routes in this area, both on and off-tarmac.  You might want to turn up, book yourself into a hotel and spend a week exploring them all – though some are much harder than Sarn Helen, so beginners are advised to keep to it.  The route starts off a little tricky as you're faced with a slippery and steep climb at first, but once it tops out (at 1546ft above sea level) it's a relatively straightforward potter through woodland, post-industrial wasteland and open landscapes.  Sarn Helen is only open between June 1 – August 21 near Neath.
4. High Peaks and Goyt Valley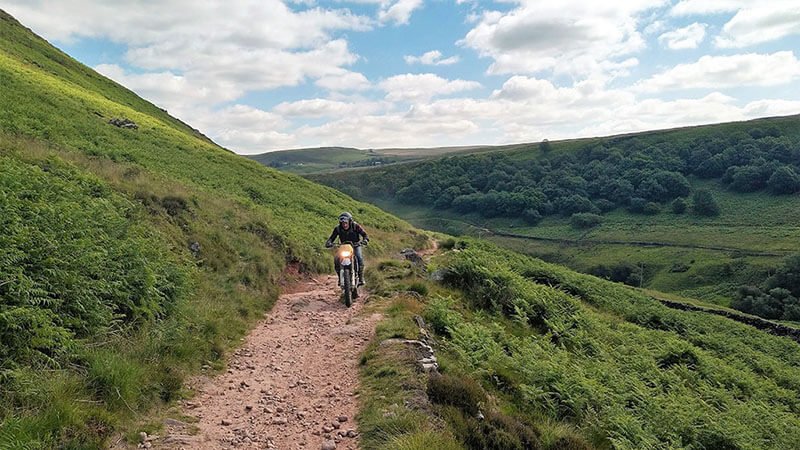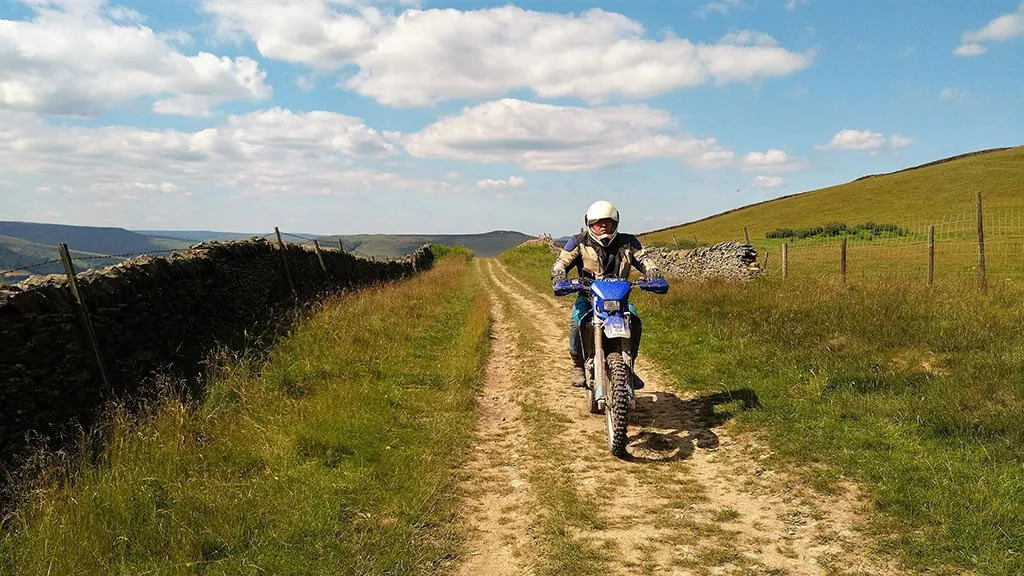 Where: South Yorkshire
Time:  Half a day.
Difficulty rating:  Pure fun.
Best part:  Rolling green hills, beautiful countryside, cracking trails – take your pick!
Watch out for:  Keep an eye out for speed traps on the faster tarmac roads.
What makes it special: There's no better way to spend a weekend than exploring the gorgeous Peak District on your motorcycle.  You'll love the area because of how it lends itself to a perfect circular route – taking in some of the UK's best and most famous green-lanes.  It also touches on the legendary 'Cat and Fiddle' Buxton to Macclesfield road, famed for its twisty, 50mph-limited bends.  Some of the trails are peppered with big rocks, so make sure you've fitted engine case guards and are wearing appropriate body protection.
5. Salisbury Plain and Drove Roads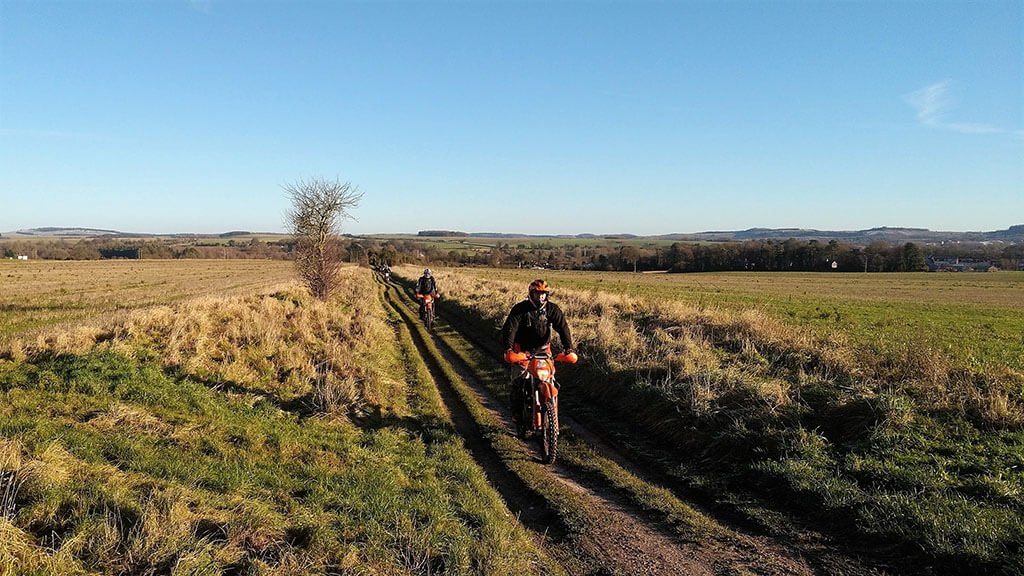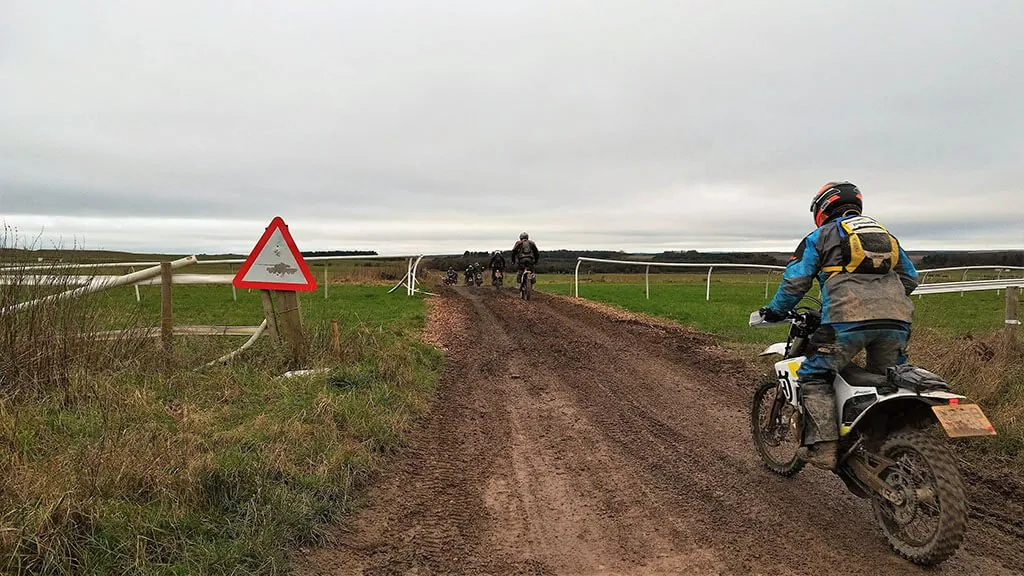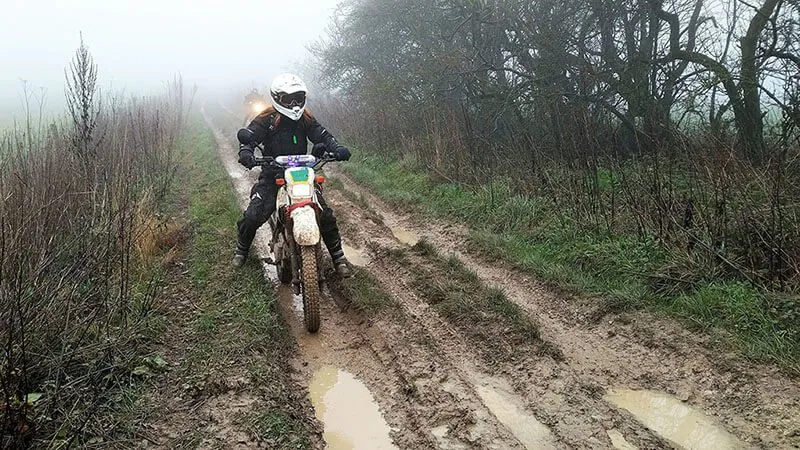 Where: Wiltshire
Time:  One long or two short days.
Difficulty rating:  Medium – very muddy with slippery chalk underneath.
Best part:  Riding past tank wreckages and combat practice villages
Watch out for:  Live firing and military exercises – never leave marked routes or stray into red flagged areas.
What makes it special:  This is one of the few areas in the UK where trail riding is permitted by the landowner – the Ministry of Defence.  The vast area (94,000 acres) is crossed by an ancient road network, which is easy to get lost in – and this is somewhere you really do not want to get lost as the Plain is home to decades of unexploded munitions, barbed wire, tanks, slit trenches and live firing.  Thankfully, the byways are easy to find and include some deep water holes, long empty straights and seemingly never-ending trails.
Where: County Durham
Time:  An hour.
Difficulty rating:  Can be tough.
Best part:  You'll feel like a green-lane hero once you've done it.
Watch out for:  It can be very slippery when wet!
What makes it special:  If the other routes look a little too easy for your liking, then have a crack at the highest vehicular through-road in England.  It's only four miles long, but it's four miles of rocks and non-stop downhill breaking, which can leave even the toughest of us in a sweaty mess.  It's easy-going to the summit, but then it all goes downhill (literally) as its surface quickly deteriorates into a rock strewn slide, making bashplates and confidence in downhill braking compulsory.  Remember to switch off your ABS and put your weight over the rear wheel.  If in doubt, don't attempt it – there are easier and equally scenic minor lanes nearby. 
Guided Trail Riding Tours
Whether you're just getting in to trail riding or an expert, joining an organsied and professionally run guided trail riding tour is a brilliant way to discover new trails and have a great day or two out. You can take all the stress out of your ride by hiring a bike or take your own and get shown some of the UK's hidden gems. 
If you fancy joining a tour, take a look at our recommended companies below. 
READ MORE: Trail Riding Tours, Companies and Guides UK
About the Trail Riders Fellowship (TRF)
The Trail Riders Fellowship exists to protect the historic network of unmade green roads criss-crossing England and Wales and promote their sustainable use by motorcyclists. Established in 1970 and with nearly 6,000 members the group has successfully fought off political attempts to outlaw trail riding and has initiated legal challenges to help conserve access to many routes that would have otherwise been unjustly closed.
We thoroughly recommend joining and supporting the TRF. Check out their website for loads of useful information on trail riding, green laning and your local groups.  
Read more on Motorcycle Travel in the UK 
Thanks for checking out this 6 of the Best Trail Riding Routes in the UK article. We hope you enjoyed it! Here's a few more articles on motorcycling in the UK and Europe that we that we recommend you read next.
Are you planning a motorcycle trip in the UK or do you have any questions or tips to share? Let us know in the comments below.